Appearing in "Half A Step (Part One)"Edit
Featured Characters:
Supporting Characters:
Antagonists:
Other Characters:
Locations:
Items:
Vehicles:
Solicit SynopsisEdit
SCHISM AFTERMATH! The X-Men are divided. As the teams part ways, Rogue, Magneto and Gambit attend to unfinished business, hoping to avoid answering the question: Whose side are they on?


Notes
Trivia
Recommended ReadingEdit
Links and ReferencesEdit
Footnotes
---
---
Reviews
In an interview with uncannyxmen.net, Mike Carey did hint he'd be "bringing back a character we haven't seen in a while" (or something along the lines of). While I assumed he was speaking of Lifeguard, (spoiler alert) he wasn't.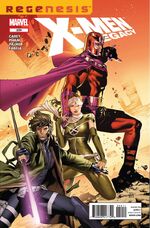 So on the last page we know who is back. And I'm glad she never should have 'died' to begin with, and I know Carey never intended on her dying. I mean, he went through all that trouble to bring her 'back' to begin with, just to have her be killed off in Second Coming. Might as well bring her back before he leaves the book. AND with Havok, Polaris, and Marvel Girl too. Well played.

Btw, I'm talking about Ariel. I eagerly await the next issue to see the further developments.. Beause she is only shown on the last page.. Oh yeah, and I liked how Carey alluded to Jean Grey for a bit there. Again, well played.

But her return was not the onl good thing about this issue. Northstar is randomly shown. He hasn't been shown on Utopia in a while..not since the Alpha Flight return I don't think. So nice return too. But does this mean he (and can I assume Aurora) are on team Cyclops..? Hmm.

So for the better half the book is about which side Rogue will decide on. She talks to Gambit, Frenzy, and Magneto, but still can't fully decide. Even though we already know that Frenzy will be on team Wolverine, it was nice to hear a reason why other than just "I'm following Rogue". Can't say I agree with Gambit's reason to leave, but whatever. And even though Magneto doesn't choose Wolverine's side, would he really be welcomed in with open arms if he did..? Huh.

Anyways, at the begining of the book we have a nice page(ish) explaining the main events that have occured since Havok and friends have been in space. But it also wraps up for what Cyclops has gotten the X-Men through, AND for how long Carey has been around for. Again, well played.

So yeah, this book did better than I expected (and let's be honest, Ariel's return played a large role in it). I'll go ahead and rank it a 4 out of 5. There just wasn't any action going on, and some art scenes weren't that great to be brutally honest. Other than that, pretty good book. Any Rogue fan obviously can't miss it.

--Johnnybravo44 01:27, December 1, 2011 (UTC)