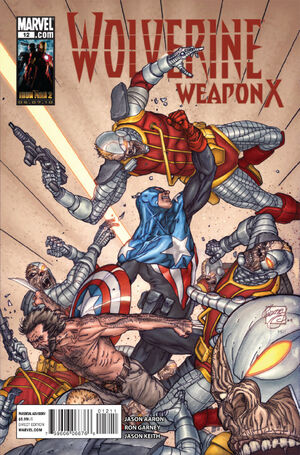 Textless Cover
Previous Issue
Next Issue
Appearing in "Tomorrow Dies Today (Part 2)"Edit
Present Time
Featured Characters:
Supporting Characters:
Antagonists:
Other Characters:
Locations:
Items:
Vehicles:
Synopsis for "Tomorrow Dies Today (Part 2)"Edit
25 Years in the future, the world is owned by Roxxon. A woman wearing a surgeon outfit walks into a bookstore called "Howlett's", which is in reality a secret headquarters for the strike force against the Deathloks. The woman surgeon then reveals herself to be Commander Miranda Bayer. Over the course of time, many superheroes were killed by the Deathloks, leaving only Wolverine. Bayer informs Wolverine of the Deathloks' next target, being Bucky Barnes, aka Captain America. After a short bar visit, Barnes is cornered by Deathloks, only to be aided in battle by Wolverine and Bayer. Struck down by a Deathlok, Bayer is rescued from certain death by Wakowski, having Barnes finish the attacking Deathlok. Observing Wolverine from up close, Bayer then determines Wolverine no longer to be a threat in the future.


Appearing in "25 Years From Now"Edit
25 Years from Now
Featured Characters:
Supporting Characters:
Antagonists:
Other Characters:
Locations:
Items:
Computers, Guns, Ammo
Time Jump Machine
Vehicles:
Synopsis for "25 Years From Now"Edit
After invading the Deathloks' base, an aged Logan is neutralized by a Deathlok, melting him down to his adamantium skeleton. Bayer then leads her team in battle against the Deathloks, and is later informed of Wolverine's demise.


Notes
No special notes.

Solicit Synopsis:

The time-twisting saga of the all-new Deathlok continues as Wolverine battles an army of cyborg assassins on two fronts: in the present, Logan must keep Captain America from becoming the latest casualty on the Deathlok hit list, while in the future an aging, battle-ravaged Logan leads a last-ditch effort to shut down the Deathloks once and for all.
Trivia
The Tomorrow Dies Today story arc was adapted in a motion comic mini-series comprised of 6 episodes called Wolverine Weapon X: Tomorrow Dies Today. The mini-series was created by Marvel Knights Animation and released by Shout! Factory on DVD in May 13, 2014.
Recommended ReadingEdit
Links and ReferencesEdit
Footnotes
↑

First and only known appearance to date besides flashbacks
---
---
Ad blocker interference detected!
Wikia is a free-to-use site that makes money from advertising. We have a modified experience for viewers using ad blockers

Wikia is not accessible if you've made further modifications. Remove the custom ad blocker rule(s) and the page will load as expected.