Vrellnexians
168,252pages on
this wiki
Talk

0
History
They once happened upon Asgard and tried to place the Asgardians into bondage[1].
Alternate Reality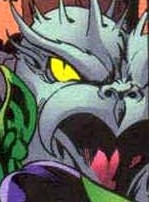 In 2399 A.D. the Skrulls were among those races who still remembered being wrecked up by "those annoying earthlings" centuries earlier were smart enough to act polite[2]
Powers and Abilities
Powers
None known.

Abilities
None known.

Average Strength level
Unknown.

Weaknesses
None known.


Habitat
Habitat: Semi-temperate, 69% covered by water
Gravity: 1.2 Earth's
Atmosphere: 77% nitrogen, 20% oxygen
Population: 6.4 billion


Miscellaneous
Type of Government: Hivelike, dominated by "queens"
Level of Technology: Moderately advanced, with warp-drive starships, capable of interdimensional travel
Cultural Traits: Total commitment to goals of their race, virtualy no concept of individuality. Ruthless in pursuit of their goals. They maintain some commercial trade and trade slaves of other races

Notes
Vrellnexians maintain some commercial trade and (captured alien) slave trade with other races.
Trivia
See Also
Links and References
Footnotes