A list of members of Vigilante Infraction General Interdiction and Limitation (Earth-616)
Members
Alvarez (Earth-616)
Alvarez was a gunner of an armored vehicle involved in the capture of Lynn Michaels and Payback[1].
Brady (Earth-616)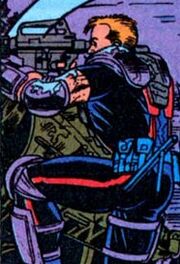 Under the command of Blackwell he tried to shoot the Punisher although he was helping the firemen and policemen to save lives by a building in fire[2].
Dutton (Earth-616)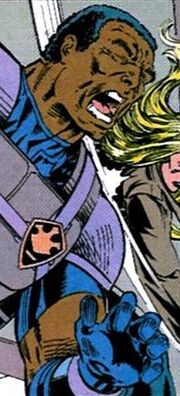 Under the threat of a weapon, Lynn Michaels asked him to disclose the whereabouts of Blackwell, and he replied by saying that Blackwell was inside the headquarters of VIGIL, not telling her that Blackwell was in effects already been killed[3].
Einhorn (Earth-616)
Einhorn asked to Nails and their commander Lowe why a sheriff that after a week that was held by them had not yet had a chance to talk to a lawyer[3].
Gabriella (Earth-616)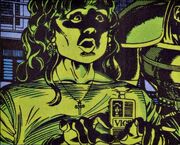 Gabriella was a dummy field agent but it was the expert in computers and communications[4].
Letz (Earth-616)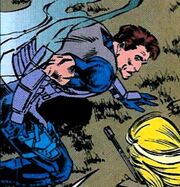 After being able to shoot down his plane, Lynn Michaels sidelined Letz hitting him with a rifle butt[3].
Rigg (Earth-616)
Informed Blackwell that a rookie police officer claims to have arrested the Punisher[2].
West (Earth-616)
West was in the team that tried to capture Lynn Michaels[5].
References