History
Located in Colorado Rocky Mountains, the Vault is an immense maximum security facility designed to hold for superhuman criminals and a specialized wing for extraterrestrial prisoners. It was later somewhat replaced by Prison 42 in Negative Zone designed by Mr. Fantastic.
Alternate Realities
Henry Gyrich served as the warden of the Vault. The Vault housed the containment unit of Dracula until it was stolen by The Marauders. It's also the base from which Larry Trask controlled his Sentinels.[1]
Marvel Animated Universe (Earth-8096)
The Vault is one of four specialized, high security prisons maintained by S.H.I.E.L.D. along with The Big House, The Cube, and The Raft. The Vault was designed by Tony Stark to house tech-based criminals and their gear.[2][3] When the prisoners escaped, the Vault was destroyed by Iron Man.
The Spectacular Spider-Man (Earth-26496)
The Vault acts as a specialized and secret portion of Ryker's Island designed for superpowered inmates.[4]
Super Heroes Squad Show (Earth-91119)
The Vault is a high security prison and S.H.I.E.L.D. base located just outside of Super Hero City. The Vault also served as a repository for fractals of the Infinity Sword obtained by the Super Hero Squad.


Residents
Mainstream Universe (Earth-616)
Guards
Anders (Earth-616)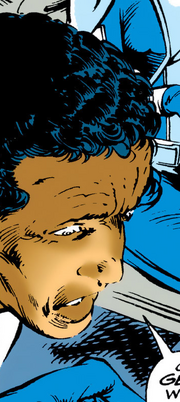 Anders warned Warden Jzemlico of a bad problem in the Vault's B.E.M. wing.[5]
Harriman (Earth-616)
Harriman was confronted by the escaping Starstealth.[5]
Mickey (Vault) (Earth-616)
Mickey was one of the guards who were transporting Rusty and Skids from the Vault to Xavier's School for Gifted Youngsters; their transport was hijacked near Sparta by the Friends of Humanity, who disabled the guards' armors with an Electromagnetic Scrambling Pulse and captured the prisoners[6].
Reeder (Earth-616)
Reeder was confronted by the escaping Starstealth.[5]
Robbins (Earth-616)
Robbins warned Warden Jzemlico that they had been locked out of the Vault's security management system.[5]
Former Prisoners
Marvel Animated Universe (Earth-8096)
Staff
Prisoners
None
Former Prisoners
Marvel Cinematic Universe (Earth-199999)
Former Residents
The Amazing Spider-Man (Earth-120703)
Former Residents
Notes
Trivia
See Also
Links and References
Footnotes