We reported a weeks ago Marvel's relaunch initiative was going to have its own relaunch. All-New Marvel NOW! starts this December, and new titles and changes in established titles have been announced today in the Marvel Panel at NYCC 2013.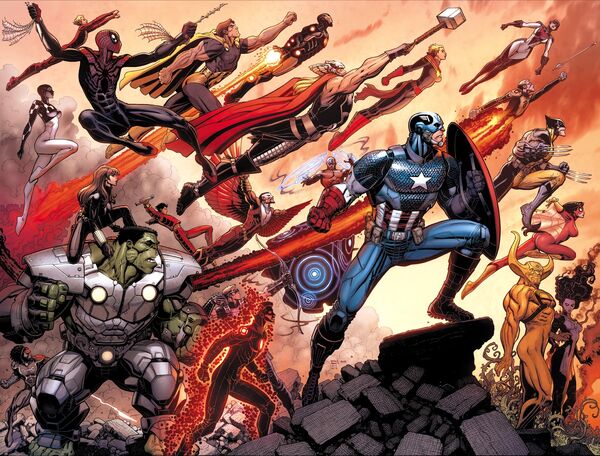 Avengers World will be a new series by Avengers' creative team Jonathan Hickman, Nick Spencer and Stefano Caselli. It will deal with the whole new Marvel NOW! purpose of the team, to protect the entire world, and will feature the Avengers going to different countries, it's not like they already went to Australia, China, Canada and Savage Land in the main series...
Secret Avengers will relaunch with new writer Ales Kot. Spider-Woman will join the team. And I'm sad Nick Spencer will leave the book, good things don't last long.
X-Men will kick off a new story arc where Monet St. Croix joins the team. By Brian Wood and Terry Dodson.
Wolverine & the X-Men will deal with some S.H.I.E.L.D. business, this story will help to reestablish the X-Men's connection to the larger Marvel Universe in the coming months after being kinda lost during Battle of the Atom.
All-New X-Men will get the addition of X-23 to the cast. Oh, and the Guardians of the Galaxy will show up to judge Jean Grey for the crimes of her future self, some kind of galactic prepayment type-thing, in a crossover between both titles.
Uncanny X-Men will deal with some Inhumanity stuff and the appearance of new Inhumans. Then Magneto will get his own spotlight issue.
Savage Wolverine will continue providing a way for artists to "write and draw their signature Wolverine story." Phil Jimenez is next after Jock, and Richard Isanove after him. Isanove's arc will kick off All-New Marvel NOW! in this series.
Wolverine will feature a death match between currently-unregenerable Wolverine and Sabretooth. Writer Paul Cornell asks the reotherical question "Will he get his healing factor back, will he not?"... And we all know he will.
Deadpool will feature yet another throwback issue (#20), and the current story line, "The Good, the Bad & the Ugly", will feature heavy changes to Deadpool.
Deadpool Annual will answer that eternal question... "What happened to Deadpool's old yellow and white boxes?" By Ben Acker, Ben Blacker, and Evan Shaner.
Uncanny X-Force and Cable and the X-Force will clash and literally fight because both they share name. Really, it's not like incorrectly using "literally" as "figurately". Writer David Hopeless has said "Cable kicks the shi[p] out of those imposters."
She-Hulk will get a new book, if you didn't know already. Let's hope it lasts more than 9 issues. By Charles Soule and Javier Pulido.
Thunderbolts will get a new member: Ghost Rider.
All-New X-Factor brings the fan-favorite team written by Peter David back. But this time, this incarnation of X-Factor will be brought by Serval Industries, a company that started out by creating the largest search engine in the Marvel Universe and decides to create a superhero team. Google re-creating Defenders comes next, Yahoo re-creating Alpha Flight, and Bing will try to get the League of Losers. Jokes aside, Quicksilver and Gambit join the organization.
Amazing X-Men will also reveal the mystery behind the Bamfs and Azazel's red Bamfs. Long-time dead teleporter X-Man Nightcrawler is also coming back, in case you didn't know.
Loki: Agent of Asgard is going to feature Loki. Who will return to his adult form. But this time is going to be the form of a young adult. And happens to be extremely similar to certain British actor named Tom.
Black Widow gets a new opportunity in a new series by Nathan Edmondson and Phil Noto. The premise of the book is that Black Widow will try to "wipe out the red from her ledger", something Bucky Barnes did in his recently-cancelled Winter Soldier series.
Iron Patriot, by Ales Kot and Garry Brown will, narrate the new adventures of Iron Patriot, and former War Machine, Rhodey Rhodes. We'll se in this series how Rhodes will try to become a hero of his own and step away from Iron Man's shadow. It's about time, considering his last solo series feautred "Iron Man" in the title.
All-New Ghost Rider will introduce a new Ghost Rider called Robbie Reyes. But fear not, as Johhny Blaze will still be Ghost Rider. By Felipe Smith and Tradd Moore.
Silver Surfer returns. Dan Slott, Michael Allred and Laura Allred will tell new stories of Norrin Radd, as he meets a new earthling friend. Considering it's being written by Dan Slott, expect that after you start to love the series, he will kill Norrin Radd and make Mephisto inhabit his body. Expect Superior Silver Surfer in a year or two.
Fantastic Four will be relaunched after Tom Brevoort leaves the editorial team this January. This new volume will celebrate the introduction of new creative team composed by James Robinson and Leonard Kirk.
Miracleman is back! In a new series starting this January, which will feature restored unreleased original stories as well as new stories, both by Neil Gaiman.
Punisher sets his new objective in Los Angeles, where he will hunt down the crime-lord of that city, by Nathan Edmondson and Mitch Gerads
Elektra gets a new solo title, by Zeb Wells and Mike Del Mundo, on "a journey by herself, away from Daredevil".
Captain Marvel is relaunched, artist David Lopez joins regular Captain Marvel writer Kelly Sue DeConnick in Carol Danver's new status quo. She's going to SPAAAAAAAAAAAAAAAAAAAAAAAAAAAAACE.
New Warriors will be brought back by Chris Yost and Marcus To. The new incanation of the team, which features Scarlet Spider, Nova, Justice and others, will find themselves against the High Evolutionary.
Source: Newsarama
---
---