Ad blocker interference detected!
Wikia is a free-to-use site that makes money from advertising. We have a modified experience for viewers using ad blockers

Wikia is not accessible if you've made further modifications. Remove the custom ad blocker rule(s) and the page will load as expected.
History
Overview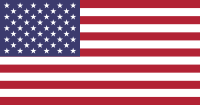 United States of America is Federal Republic in North America. The country is made up of 50 States. The capital city is Washington, D.C.
The country was founded by the Second Continental Congress in 1776. After the American Revolution, the United States of America was recognized by its former motherland, Great Britain.
In the mid-1800's, what was known as the American Civil War; the northern U.S. and the southern Confederate States of America entered a war over slavery, with the north winning and slavery being abolished.
The United States entered both World War I and World War II on the side of the Allies. From the end of World War II until 1991, the U.S. fought the Soviet Union in the Cold War. The two major wars in the Cold War included the Korean War and the Vietnam War.
Modern Era
For events that took place in the modern era please see the category below;
Points of Interest
Residents
Notes
Trivia
See Also
Links and References
Footnotes