Appearing in "Uncanny"Edit
Featured Characters:
X-Men

(Main story and flashback)
Supporting Characters:
Villains:
Other Characters:
Locations:
Items:
Vehicles:
Solicit SynopsisEdit
EULOGY After the hammer-blow of FEAR ITSELF and the violence of SCHISM, it can't go on. it's the end of Uncanny X-Men, and who better to provide a stirring eulogy than.... MISTER SINISTER? Join us for the end of the industry-shaping series with the return of the 19th century's morally dubious scientist.


Notes
Trivia
Recommended ReadingEdit
Links and ReferencesEdit
Footnotes
---
---
Reviews
This issue was great 'final' issue, but than again it wasn't. Because it so obviously wasn't a final issue.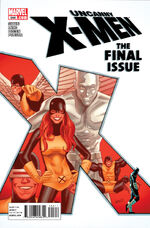 I felt the same with Fantastic Four's last issue, not even a year back. It was so obvious Marvel would not be able to miss a #600 of Fantastic Four. So. Obvious. Will Uncanny X-Men return for #550? It's possible, though a little unlikely. You can bet money that for sure it will be back under the original numbering one day. It's too obvious..

Mr. Sinister is not only my favorite villain, but my probably my favorite character of not just all X-Men, but probably all Marvel. I just have always liked how utterly evil he is, and he sure is evil in this issue, even a bit crazy it seems. But it's good to see him back nevertheless.

The rest of the issue was pretty smooth: Iceman and Cyclops' talk and Beast's return to say goodbye again. They both seemed realistic, like what those two characters would actually do in that position. And than of course Emma's talk with Cyclops.

This book was the best anyone could hope for for a 'final' issue. It started off great with a reminder back to the first issue, reminded you off the good times, but also of what was to come, and ended with Cyclops putting away old pictures of old memories.. I'll give it a 4 out of 5 stars. There were just a few things that personally put me off, and not to mention this issue was really just talk. But if you're an X-Man fan you're gonna buy it anyway, aren't you..?

--Johnnybravo44 (talk) 03:18, October 20, 2011 (UTC)