Vintage
Previous Issue
Next Issue
Behold! I am Groot, the invincible! who dares defy me ??

-- Groot
Appearing in "I Challenged Groot! the Monster from Planet X"Edit
Featured Characters:
Supporting Characters:
Villains:
Groot (First appearance) (Apparent death)
Other Characters:
Races and Species:
Locations:
Items:
Vehicles:
Synopsis for "I Challenged Groot! the Monster from Planet X"Edit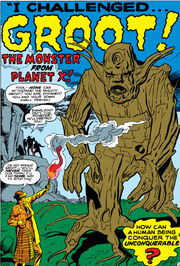 In the Autumn of 1960, scientist Leslie Evans and wife Alice witnessed a blinding object falling from the sky. When Evans went to investigate the next day, he not only found the object, but discovered it was alive. Evans looked on as the alien creature, Groot, grew larger by the minute as he absorbed wooden objects into his own body. There in the woods, Groot announced his presence to the nearby community. Claiming to be the Monarch of Planet X, Groot announced that he had come to Earth to take a small Terran town back to his homeworld for its scientists to study. While the humans resisted, no gunfire, or even conventional fire could penetrate Groot's hide. Seeing the futility of trying to fight Groot directly, Evans abandoned the townspeople and raced back to his laboratory, for which he was labeled a coward.
Over the next three days, Groot used his ability to control trees and plants to turn the forest into a make-shift army. His announced intention was to use Earth's native vegetation to create a net of roots to allow him to lift the town into space whole. When Groot entered the town, Evans snuck up behind him and unleashed the fruits of his frantic work: a specially bred colony of termites. The insects voraciously ate through Groot's hide, and into his core. Groot collapsed in a a state of shock, and was believed dead by the townsfolk


Appearing in "I Found the Abominable Snowman!"Edit
Featured Characters:
Other Characters:
Locations:
Items:
Photo of Abominable Snowman


Synopsis for "I Found the Abominable Snowman!"Edit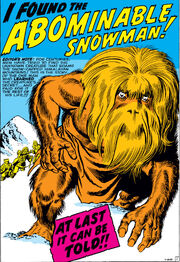 A thug ventures to the Himalayas with the intention of capturing the Abominable Snowman for profit but is frustrated in his attempts of getting the locals to refer him to the creature he has in a photograph. They all tell him to discard the photograph as it is cursed. He plods through the mountains for weeks unable to locate any trace, until his mind is addled, and he drops the photograph which is now a reasonable resemblance of what he has become.
Appearing in "My Friend is Not Quite Human!"Edit
Featured Characters:
Supporting Characters:
Locations:
Items:
Synopsis for "My Friend is Not Quite Human!"Edit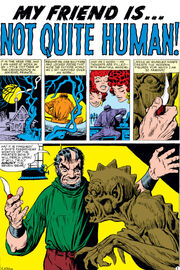 Napoleon orders a wood carver to create a wooden woman as a figurehead for his vessel but he does not want to do it, for he hates women as they scorn his ugliness. Napoleon threatens to kill him if he does not comply and so he does, surprising himself at the beauty of his creation. All these years of loneliness have made him bitter, but he has realized that he does desire the love of a woman. He is surprised when she speaks to him and professes her love, but tells him she can only do so once a week at the stroke of midnight. He stalls Napoleon to have more time with her and visits a gypsy with the notion of turning himself into wood so the two figureheads can grace Napoleon's ship together forever. He cheats the gypsy out of her payment, and when the potion works and transforms him into wood, the wooden woman transforms into human. She tearfully informs him that the gypsy was there earlier in order to pay him back for cheating her. She leaves, but hopes the gypsy will someday reverse the spell upon him.
Appearing in "I Found the Hidden World!"Edit
Featured Characters:
Villains:
Frankie
Other Dimensional Beings
Locations:
Items:
Synopsis for "I Found the Hidden World!"Edit
Synopsis not yet written.
Notes
Trivia
Recommended ReadingEdit
Links and ReferencesEdit
Footnotes
---
---
Ad blocker interference detected!
Wikia is a free-to-use site that makes money from advertising. We have a modified experience for viewers using ad blockers

Wikia is not accessible if you've made further modifications. Remove the custom ad blocker rule(s) and the page will load as expected.