Further Information
Tales to Astonish is the name of several anthology comic book series published by Marvel Comics from 1959-1968. It began as a science-fiction anthology that served as a showcase for such artists as Jack Kirby and Steve Ditko, then features superheroes during the Silver Age of Comic Books before changing its title to The Incredible Hulk with issue #102 (April 1968).
Science-fiction anthology
The early run of Tales to Astonish, from issues #1-34 (Jan. 1959 - Aug 1962). began under Atlas Comics, the 1950s forerunner of Marvel, before eventually falling under the Marvel banner. It contained science-fiction mystery/suspense stories written primarily by editor-in-chief Stan Lee, with artists including Kirby, Ditko, Dick Ayers, Don Heck and Paul Reinman. One such story, "The Man In The Ant Hill", in #27 (Jan. 1962), introduced the character Henry Pym, who would be reutilized eight issues later as the superhero Ant-Man. Anthological stories continued to appear as backups until Tales to Astonish became a superhero "split book" in 1964, when it began featuring one story each of Ant-Man and the Hulk.
Ant-Man and Giant-Man
Following his one-shot anthological story in #27, scientist Henry Pym returned donning a cybernetic helmet and red costume, and using size-changing technology to debut as the insect-sized hero Ant-Man in #35 (Sept. 1962). The series was plotted by Lee and scripted by his brother, Larry Lieber, with penciling first by Jack Kirby and later by Don Heck and others. Ant-Man fought a series of antagonists such as the Protector, the Porcupine, Comrade X, Egghead, and the Scarlet Beetle (an actual, mutated scarlet beetle). Ant-Man teamed up with socialite-turned-heroine, Janet Van Dyne, The Wasp, in #44 (June 1963), under former Atlas staffer Ernie Hart, writing under a pseudonym.
Ant-Man began size-shifting in the opposite direction in #49 (Nov. 1963), when he added two letters to his name to become Giant-Man.
Among his antagonists was the inadvertently ludicrous alien dubbed the Living Eraser — who, until the deliberately ludicrous hero Squirrel Girl was created in the 1990s, was evoked through the years as a shorthand phrase for any embarrassingly ill-conceived character. Comics historian Les Daniels notes that the celebrated Lee & Kirby's teaming for this story and character is sometimes invoked as an example of even legendary creators being capable of such misfires. Ironically, a team of Living Erasers was an integral transportation resource in the 2005-2006 series Nick Fury's Howling Commandos.
Lee remained as writer through the end of the feature's run, except for two stories scripted by Leon Lazarus (#64, Feb. 1965) and Al Hartley (#69, the finale, July 1965). Artists of the latter part of the run included Ditko, Ayers, and Golden Age greats Carl Burgos and Bob Powell.
The backup feature "Tales of the Wasp" (#51-56) used the superheroine as a framing device for anthological science-fiction stories, having her relate tales to hospitalized servicemen and the like. The Wasp also starred in two subsequent solo backup stories. All were scripted and penciled by Lieber.
The Hulk and the Sub-Mariner
The Hulk, whose original series The Incredible Hulk had suffered a quickly canceled, six-issue run in 1962-63, returned to star in his own feature when Tales to Astonish became a split book at issue #60 (Oct. 1964), after having guest-starred as Giant-Man's antagonist in a full-length story the previous issue. The Hulk had proven a saleable guest-star in three issues of Fantastic Four and an issue of The Amazing Spider-Man. Now and these new stories — scripted by Lee and illustrated by the seldom-seen team of penciler Steve Ditko and inker George Roussos. Ditko, who has virtually always inked his own sketchy but almost preternaturally elemental pencils, was given an even darker, more shadowy look that usual by Roussos' bold, craggy inks, creating a unique look that in some ways pressaged that of the "grim and gritty" late-1980s and 1990s comics.
This early part of the Hulk's run introduced the Leader, who would become the Hulk's archnemesis, and additionally made the Hulk's identity known — initially only to the military.
Namor the Sub-Mariner received his first feature in a decade beginning with #70 (Aug. 1965). After the final issue of Tales to Astonish (which became the solo magazine The Incredible Hulk with issue #102), the Sub-Mariner co-starred in the split-book one-shot Iron Man and Sub-Mariner #1 before going on to his own 72-issue series.
Revival
A brief horror anthology bearing the same name ran from 1979-1981, and the one-shot Marvel Selects: Tales to Astonish featured the Hulk, Namor, Ant-Man and the Wasp.
Bibliography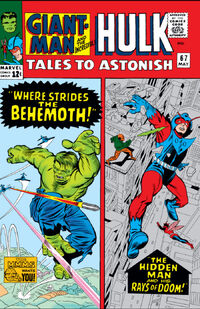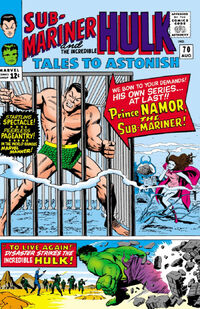 Marvel Comics
Tales to Astonish #1-101 (Jan. 1959 - March 1968)
Tales to Astonish (1979 Series) #1-14 (Dec. 1979 - Jan. 1981)
Tales to Astonish (1994 Series) #1 (Dec. 1994)
References
Marvel: Five Fabulous Decades of the World's Greatest Comics, by Les Daniels (Harry N. Abrams, New York, 1991) ISBN 0-8109-3821-9