Appearing in "I Created the Colossus"Edit
Featured Characters:
Supporting Characters:
Antagonists:
Other Characters:
Locations:
Synopsis for "I Created the Colossus"Edit
Boris Petrovsky sculpts a Colossus as a monument for the Soviet Union. He has completed the statue and is awaiting the apparatchik who will give it the Party's approval. One night a UFO crashes near his home, and Petrovsky finds a crustaceanoid from the world of Kigor. To survive on Earth, it transfers its consciousness into the hundred-foot statue. Somehow it can make the statue move, and the Kigor (possibly still in pain) goes on a rampage in Moscow. The Red Army fails to stop it. Only when another Kigor ship arrives and rescues the first one does the statue stop.
Appearing in "I am Gorak!"Edit
Featured Characters:
Locations:
Items:
Synopsis for "I am Gorak!"Edit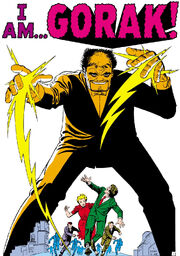 A master illusionist performs to the world showing his awesome powers and then breaks the fourth wall to address the reader directly with a threat that the reader will disappear now that Gorak has stopped thinking of him/her.Gorak fades away instead, surprised, as the last panel shows the comic book has been set down now the story has reached its end.
Notes
Trivia
Recommended ReadingEdit
Links and ReferencesEdit
Footnotes
---
---
Ad blocker interference detected!
Wikia is a free-to-use site that makes money from advertising. We have a modified experience for viewers using ad blockers

Wikia is not accessible if you've made further modifications. Remove the custom ad blocker rule(s) and the page will load as expected.