History
Overview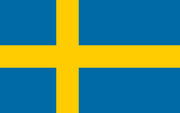 Sweden, officially the Kingdom of Sweden, is a Scandinavian country in Northern Europe. It's capital city and largest city is Stockholm.
20th Century
During World War II, Doris Horton -- niece of famous American inventor Professor Phineas Horton lived in Sweden until 1943 when she returned to the United States to deliver a list of Nazi spies attempting to smuggle themselves in to the USA[1].
Modern Age
...


Points of Interest
Notes
Trivia
See Also
Links and References
Footnotes
Ad blocker interference detected!
Wikia is a free-to-use site that makes money from advertising. We have a modified experience for viewers using ad blockers

Wikia is not accessible if you've made further modifications. Remove the custom ad blocker rule(s) and the page will load as expected.