Spider-Mobile
152,467pages on
this wiki
Talk

0
Status
Characteristics
Origin
History
Original
Corona Motors, in an effort to promote their new non-polluting car engine, hired the advertising firm of Carter & Lombardo to approach Spider-Man about building a Spider-Mobile.[1] Initially turning down the offer as a dumb idea, Spider-Man reconsidered when he realized how badly he needed the money for rent and expenses. With the aid of the Human Torch (Johnny Storm), they completed the construction of the Spider-Mobile.[2] After a crash course in driving, Spidey's first capture was of Hammerhead's thugs.[3] Mysterio tricked Spider-Man into dumping the car into the river, but Corona Motors wanted their product back.[4]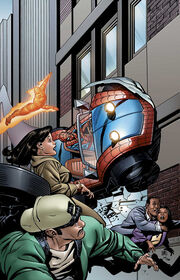 After being unable to find it in the waters, Spider-Man faced off against a modified version courtesy of the Tinkerer. Battling it out with the car, Spidey subdued the vehicle and returned it to Carter and Lombardo, albeit a little smashed.[5].
Smithsonian
Spider-Man was surprised to find the Spider-Mobile on display at the Smithsonian National Design Museum.[6]
Parker Industries
Following the establishment of Parker Industries as a global conglomerate, Peter designed and built a new Spider-Mobile alongside Lian Tang, a designer at the Shanghai branch of Parker Industries. The new Spider-Mobile featured web-fluid airbags, a voice-operated computer system, the ability to drive along sheer surfaces or upside-down, and the ability to unfold its wheels into spider-like legs.[7]
Alternate Universes
Spider-Verse
During Spider-Verse, one of the alternate universes contained a sentient Spider-Mobile.
Rebuilt by Hawkeye and one of his ex-wives 50 years in the future, The Spider-Mobile is the ride of choice for Logan and Clint on their journey to New Babylon. Its many features come in very handy on their trip, since it "does whatever a Spider can.[8]
Functions
Methods of Transport: Road vehicle
On-Board Equipment: Spider-Signal Spotlights, ejection seats
On-Board Weaponry: Gas bombs, Web-Shooters
Notes
Trivia
Features as a piece on the Spider-Man Monopoly board game

See Also
Links and References
Footnotes