Previous Issue
Next Issue
Appearing in "Disaster!"Edit
Featured Characters:
Supporting Characters:
Antagonists:
members of Master Planner's gang
Other Characters:
Locations:
Items:
Vehicles:
Doc Ock's "Power Maintenance" truck
Synopsis for "Disaster!"Edit
Continued from last issue... Struck with amnesia from his exposure to a weapon nullifier device, Spider-Man is convinced by Dr. Octopus that he is one of his henchmen. Spider-Man, then assists them commit crimes, which make headlines. Spider-Man however, doesn't feel right about what he's doing. Meanwhile, Peter Parker's absence has gotten all his friends and family worries as they have no clue where he could have gone.
Meanwhile, Dr. Octopus tries to get Spider-Man to unmask, but Spider-Man realizes that if they were really partners, Octopus would already know his secret identity. Spider-Man realizes that he's been tricked and battles Dr. Octopus. Meanwhile, the military has been tracking Spider-Man since his last theft netted Dr. Octopus secret missile plans.
During the fight, John Jameson manages to immobilize Dr. Octopus with the nullifier. When Dr. Octopus tries to talk Spider-Man into helping him get free, Spider-Man declines. He tells Jameson that he doesn't remember who he is, but he knows for sure that he's no partner of Octopus. When Octopus is taken into custody, Jameson asks Spider-Man to come with them as well. Spider-Man refuses and flees. Later, Spider-Man takes a look his reflection in the a window hoping that it will remind him of who he is, but only sees a stranger looking back at him.
This story is continued next issue....


Appearing in "While a Universe Trembles"Edit
Featured Characters:
Supporting Characters:
Antagonists:
Other Characters:
Locations:
Items:
Vehicles:
Synopsis for "While a Universe Trembles"Edit
Thor and Harris Hobbs travel to Asgard, as per Thor's promise to allow Hobbs to accompany him so that he might write a story about Asgard in exchange for destroying evidence of Thor's secret identity of Donald Blake. Crossing the Bifrost Bridge, they are shocked to find a number of Asgardian warriors who are tending to their wounded following their defeat at the hands of the Absorbing Man. Thor learns that the Absorbing Man has attacked Asgard after being brought to the sacret realm by Loki.
Inside the Palace, the Absorbing Man has taken on the properties of the energy unleashed from Odin's Sceptre of Supremacy, and has rechanneled the energies back at the All-Father. This has no effect on Odin, who simply absorbs the attack back into his Sceptre. Abandoning this form, Absorbing Man in turn attempts to attack Odin straight on. Odin attempts to attack Creel with a whirl wind, however this causes the Absorbing Man to change into a human cyclone instead.
Meanwhile on Earth, in a remote Asian jungle, soldiers are searching for a local Witch Doctor whom they hope to kill in order to subjugate his people. This Witch Doctor comes across one of the Norn Stones that was dropped by Thor when he was in the region collecting the stones in a previous quest. This stone gives the Witch Doctor enhanced strength that allows him to fight off his pursuers. He ultimately sends them fleeing when he is able to catch their bullets in mid air and throw them back at the army sending the soldiers fleeing.
Back on Asgard, the Absorbing Man gets a new idea: Absorb all the properties of Asgard itself. In doing so, Creel begins to grow in size and power that dwarfs even the might of Odin. Loki then appears explaining he was the mastermind of the plot, and that because he control the Absorbing Man, he has proven that he is mightier than Odin himself and by Asgardian Law, is entitled to carry the Sceptre of Supremacy. Odin, realizing that he has no other choice hands the Sceptre to Loki, who basks in his victory. However, this proves to be short lived when the Absorbing Man believes that he should be entitled to the Sceptre as he had done all the dirty work.
However, this was all a trick orchestrated by Odin, who as Loki and the Absorbing Man fight over possession of the sceptre, explains that the Sceptre merely channels his vast powers and that in another's hands it is useless. Odin then uses his powers to send both Loki and the Absorbing Man into space where they freeze up in the vacuum and left orbiting the void.
With the battle over, all the Asgardians hail Odin for his victory over Loki. Thor then remembers that Harris Hobbs was with him, and finds the reporter among the wreckage, thankfully unharmed. Odin is furious that Thor brought a mortal to Asgard and demands that he return him. When Hobbs learns of the battle he missed he is equally upset, things fare worse for the reporter when he attempts to take photographs of Asgard but finds that his camera has also been destroyed. With no other choice, and accepting his failure, Hobbs agrees to return to Earth with Thor.
While back on Earth in a remote region of Mongola, the Norn Stone empowered Witch Doctor attacks an opposing village. He is called a demon by the villages and decides to take the name for his own. With the village under his control the Demon then vows to take over the entire world.
As this is happening, Thor and Hobbs returns to Earth where Hobbs realizes that even his memories of Asgard are now gone, and wonders if he has been tricked by Thor. Thor explains that although his waking days he will not remember his experience among the Gods, but he will remember them in his dreams.


Appearing in "Iron Man Is Born!"Edit
Featured Characters:
Supporting Characters:
Antagonists:
Other Characters:
Locations:
Items:
Iron Man's tools

Suction Cups
Magnetic Turbo-Insulator
Miniature buzz saw
Miniature flamethrower

Lightweight mortars

(Only appearance)

[1]
Vehicles:
Synopsis for "Iron Man Is Born!"Edit
In a closely guarded lab,
Anthony 'Tony' Stark
shows off a new invention to US military defense officials. He has developed transistorized magnets that are super-powerful; strong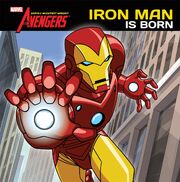 enough to pull open a thick metal door from a distance. They increase magnetic force a thousandfold! Stark impresses the military brass with his new inventions, while at the same time impressing the ladies of the international jet set with his dashing good looks and incredible personal wealth.
Across the globe, the evil Red tyrant Wong-Chu takes over another small village in Vietnam, defeating its strongest men in contests of judo. Meanwhile, Tony Stark has arrived in Vietnam to observe the testing of one of his new inventions for the US military. Accompanying a squad of soldiers equipped with his weaponry on a patrol through the jungle, he accidentally triggers a tripwire that detonates a landmine. The wounded Stark is captured by Wong-Chu's forces and taken to their nearby headquarters. Wong-Chu realizes his prisoner is a "famous Yankee inventor" and decides that he will put him to work in service of the Communist insurgency even though doctors determine the young inventor only has days to live before "shrapnel reaches his heart."
Wong-Chu declares that he will have a surgeon save Stark's life if he will agree to develop new high-tech weapons for him. Stark agrees, but only in order to try and save his own life with his technical abilities. Given access to scrap metal and tools, Stark promises he will deliver a "fantastic weapon," but sets out in building a mechanism that will help stop the shrapnel from penetrating his heart. He is given an assistant named Professor Yinsen, a famous physicist whom Stark had read about while in college. Working together, the two finalize work on Stark's project: an iron body suit with a chest plate that will keep the shrapnel at bay through use of transistor-powered magnets.
Just as Stark has donned the life-saving suit and begun to power it with electrical current from a generator, Wong-Chu senses something amiss and comes in to check on him. Professor Yinsen rushes out into the hallway shouting at Wong-Chu and is shot dead by armed guards, buying the precious seconds Stark needed to fully charge the armor. Tony Stark, as Iron Man, hears the murder of his friend and swears he will avenge his death. He tries to rise and steady himself in the Iron Man armor, but discovers it is like learning to walk again. He quickly gets the hang of operating the armor and evades detection from Wong-Chu by leaping to the ceiling and holding himself there using suction cups. After the tyrant leaves the room, he heads outside to "amuse himself" with his "favorite sport": terrorizing the local villagers.
Iron Man descends from the ceiling and finds a coat and hat, with which to covers his armor, and wanders outside to find Wong-Chu tossing people around in the judo arena. Iron Man challenges Wong-Chu, then takes off his coat and hat to reveal the shocking visage of Iron Man! The metal monster walks up to Wong-Chu, picks him up, and twirls him around before tossing him into the brush. Wong-Chu demands that his guards open fire on Iron Man, but the bullets just bounce off the armored figure's metal chest plate. Iron Man then uses "reverse magnetism" to redirect the bullets back at his opponents. Iron Man chases Wong-Chu to a nearby building where the Communist menace fells him with a file cabinet loaded with rocks.
Wong-Chu escapes to order the execution of all his prisoners, but Iron Man, low on energy and too weak to continue pursuit, uses his armor's lubrication system to launch a stream of oil towards an ammunition depot near the fleeing Wong-Chu. He then sets fire to the oil stream using a miniature torch in one of the armor's gauntlets, causing the ammo dump to explode, and seemingly killing Wong-Chu. His batteries now recharged, Iron Man dons his coat and hat and walks away into the jungle.


Notes
Trivia
Recommended ReadingEdit
Links and ReferencesEdit
Footnotes
---
---