It's my face! My face on your body!

-- Spider-Man
History
A powerful light emitted from Spider-Man's belt to announce his arrival to criminals. [1] It was also used as a light source, allowing him to see in the dark. Recently, after upgrading his Utility Belt, the Spider-Signal was able to switch into a second mode which was a UV light setting for forensic purposes. [2]
Another design was created by Ollie Osnick to call Spider-Man and then ask him if they could work together as a team. This version was a lantern. [3]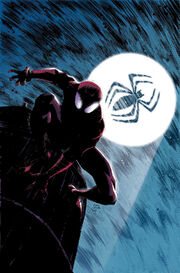 An all-new design was created by J. Jonah Jameson to use it from a reflector in a Police Station in order to call Spider-Man if needed. During the reign of the Superior Spider-Man, Otto Octavius, Otto destroyed it, as it would help his enemies to know where to find him.[4]
Notes
Trivia
Jameson's version of this item is an obvious parody of the Bat-Signal used by DC Comics' Batman.
See Also
Links and References
Footnotes
Ad blocker interference detected!
Wikia is a free-to-use site that makes money from advertising. We have a modified experience for viewers using ad blockers

Wikia is not accessible if you've made further modifications. Remove the custom ad blocker rule(s) and the page will load as expected.