History
Overview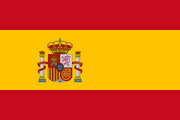 Spain, officially the Kingdom of Spain is a sovereign state largely located on the Iberian Peninsula in southwestern Europe. It's capital city is Madrid.
Ancient History
In 9th Century AD, Spain was the home to Esteban De Ablo who studied alchemy before relocating to Transylvania[1].
Early in the country's history, Spain was home to the External mutant Gideon. He eventually accompanied Christopher Columbus on his historic expedition that led to the discovery of Americas in 1492[2].
20th Century
During the late 1930's Spain fell into a civil war. During this period the mutant adventurer Logan and his friend Eugene Judd assisted in the Spanish resistance in the year 1937. They battled along side writer Ernest Hemmingway[3]. This battle was briefly relived by the two heroes future selves who were transported into the past along with Wolverine's foe Lady Deathstrike who attempted to assist Nazi Captain Horst Schlachter stop the resistance fighters. Ultimately this plot was foiled and the future Logan and Puck were returned to their own time along with Lady Deathstrike[4][5].
With the outbreak of World War II, Spain was loyal to the Nazis, but was not overly involved in the war. Because of this backing, Spain was not invited into the United Nations following the Nazis defeat until 1955 during the Cold War when the country became a strategic advantage to the United States.
Prior to this, Communist forces were active in Spain, prompting the United States to send Secret Service agent Kent Blake to Spain to collect a list of known communist operatives that were active in Spain at the time. Blake arrives in January 1, 1951. He traveled to Madrid where the American ambassador to Spain was murdered by communist agents. Blake managed to rout out the communists and recover the list of their operatives in the country and return it to the Untied States[6].
Modern Age
...


Points of Interest
Residents
Notes
Trivia
See Also
Links and References
Footnotes