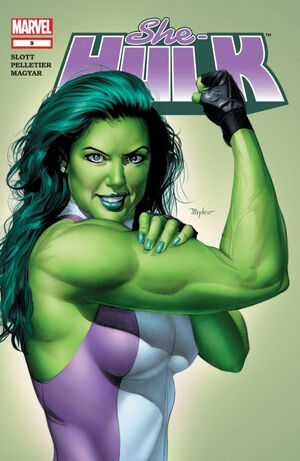 Textless
Previous Issue
Next Issue
Wait a sec, Shulkie, did he say it like this? "I'm sorry, Old Friend. But it looks like you'll stay this way forever"

-- The Thing
Appearing in "Strong Enough"Edit
Featured Characters:
Supporting Characters:
 Hercules  (Appears in flashback and main story)
Villains:
Other Characters:
Locations:
Items:
Vehicles:
Synopsis for "Strong Enough"Edit
2 Weeks ago, Constrictor, Armadillo and Jack O'Lantern are battling Hercules presumably because of criminal actions when Hercules severely ddamages Constrictor's face.
Now: Mallory Book is defending Hercules against accusations from the lawyer of the Constrictor, when the two lawyers stand up to talk, Constrictor stupidly threatens Hercules and even though he is wearing a mask to shield his face due to the incident Constrictor is attacked by Hercules. I other rooms, Howard the Duck is sueing his director over a movie and Valkyrie is told she needs a liscense to ride a flying Horse. Suddenly in a blaze of purple light, Pip, She-Hulk and Southpaw appear, Pip then turns and leaves. Southpaw is glad to be home when Holden Holliway tells them that they have been gone 3 months, She-Hulk realizes she has forgottnen about her friends and family and rushes home destroying a cab door on the way, leaping like the reguklar Hulk and carrying Southpaw, when she ets home she discovers that Pug has been feeding her fish and that Awesome Andy is allowed to look after Southpaw. She then calls John jameon and plans to meet up, the two visit Mister Fantastic and the Thing of the Fantastic Four to see if they can help control her new super strength. Jameson gives her the Jupiter Suit which Reed tampers with, when they leave, Miste Fantastic contacts Doc Samson. When they are leaving She-Hulk is attacked by Titania and sends her flying with a single punch. Meanwhile back in court, Constrictor's lawyer presents a videotape of Hercules singing about his battle with Constrictor. Later, She-Hulk is looking over Southpaw's records and discovers that she once trashed her schools because they brought back school uniforms. Fed up as she leaves, She-Hulk convinces Hercules to pay the sum he is being sued for, much to the anger of Book. Southpaw finds it discomforting thinking she will not defendd her well. Later in a bar, Hercules and She-Hulk arm wrestle and She-Hulk lets Hercules win, realising that she could perhaps be more powerful than him.


Notes
The credits listed above are wrong. The issue itself sites (writer)Dan Slott, (pencils)Paul Pelletier, (inks)Rick Magyar, among others. Not only that, but the first 3 pages are Dale Keown for sure (or a massive rip-off of his style.)

Trivia
Recommended ReadingEdit
Links and ReferencesEdit
Footnotes
---
---
Ad blocker interference detected!
Wikia is a free-to-use site that makes money from advertising. We have a modified experience for viewers using ad blockers

Wikia is not accessible if you've made further modifications. Remove the custom ad blocker rule(s) and the page will load as expected.