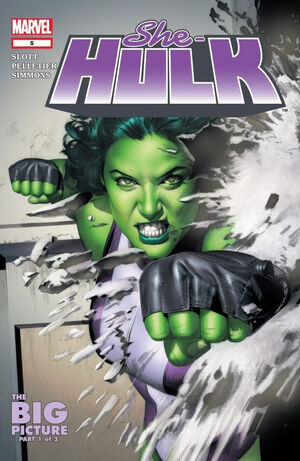 Textless
Previous Issue
Next Issue
Appearing in "The Big Picture Part One: More Than A Handful"Edit
Featured Characters:
Supporting Characters:
Antagonists:
Other Characters:
Locations:
Items:
Vehicles:
Synopsis for "The Big Picture Part One: More Than A Handful"Edit
The Issue starts with a battle between Southpaw and the New Warriors, she sends Nova flying. She then takes Namorita hostage. She is attacked and captured from behind by Night Thrasher and sent to the Big House, Hank Pym's Superhuman prison. A while earlier Jen Walters leaves the office for a date with John Jameson. During the date, Nova destroys a building site support beacon and She-Hulk saves the civies. She is contacted by Holden and told to stay in She-Hulk form and meet at the Big House. At the Big House the Mad Thinker enlists Southpaw to help with a breakout. When Southpaw is taken out of the lunch area to go see Holliway, Vermin calls for his pet rat to break the containment device, the rat is killed and the inmates escape after Scorpion is fatally injured. Sandman hides the rest of the villains and Figment creates illusions so the guards think the criminals are back in their cells. When the Doctor attempts to shrink down to save Scorpion the gas holder is opened and Rhino destroys it, shrinking the guards except the woman. Mandrill becomes even smaller and crawls up her nose to control her. The other inmates then shrink down to unseeable sizes. Meanwhile She-Hulk is horrified to find that Holiway, Southpaws Grandfather has places She-Hulk as Southpaw's legal guardian. When She-Hulk leaves she shakes hands with a guard and the inmates crawl onto She-Hulk's hand unnoticed.


Notes
Trivia
Southpaw is revealed to be Holliway's Grandaughter
Recommended ReadingEdit
Links and ReferencesEdit
Footnotes
---
---
Ad blocker interference detected!
Wikia is a free-to-use site that makes money from advertising. We have a modified experience for viewers using ad blockers

Wikia is not accessible if you've made further modifications. Remove the custom ad blocker rule(s) and the page will load as expected.