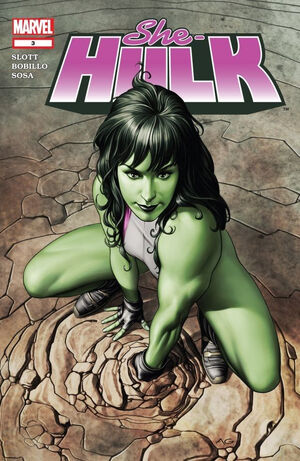 Textless
Previous Issue
Next Issue
I underestimated you, Walters. You're not just for reaching high spots and heavy lifting ...you also make a great human shield.

-- Mallory Book
Appearing in "Dead Certain"Edit
Featured Characters:
Supporting Characters:
Angie Cryer

(First appearance)

(Appears in flashback and main story)
Antagonists:
Other Characters:
Locations:
Items:
Juridic Elements:
Vehicles:
Synopsis for "Dead Certain"Edit
The Story starts with a man named Bailey Briggs, working on his plane, the evangeline, named after his girlfriend, Angie. The sponsorer, Mr. Newton decides to murder Briggs because he is costing him too much money by sending him flying through the propellers. Weeks later at JLK&H, Doctor Strange asks Mallory Book to argue in court that the ghost of Bailey Briggs should be allowed to testify in court. At the time Newton still claims that he is innocent. Book accepts the case but only with She-Hulk's help. The two dont get off to a good start when it turns out that Book only wants her for her super hero friends, such as the Thing. The Thing agrees to go to court and helps She-Hulk move in. She is then approached by Augustus Pugliese aka Pug. He decides to help her move too. He tells her the reason he took on superhuman law was to pay pack Spider-Man for saving his life many years ago. However when they get to Avengers Mansion, the security system attacks Pug but She-Hulk saves him. Later in court the ghost of Briggs accuses Angie of murder, however in the end She-Hulk manages to prove he is lying and Briggs is to be locked in a prison created by Doctor Strange forever.


Notes
Trivia
Recommended ReadingEdit
Links and ReferencesEdit
Footnotes
---
---
Ad blocker interference detected!
Wikia is a free-to-use site that makes money from advertising. We have a modified experience for viewers using ad blockers

Wikia is not accessible if you've made further modifications. Remove the custom ad blocker rule(s) and the page will load as expected.