Appearing in "Clear Waters Remembered!"Edit
Featured Characters:
Supporting Characters:
Antagonists:
Other Characters:
Locations:
Items:
Vehicles:
Synopsis for "Clear Waters Remembered!"Edit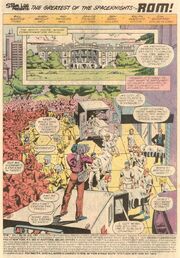 Project Wraith-Watch is cleaning up the area of the fight at Mercy Hospital in Atlanta, Georgia where they are attempting to keep the true story under wraps. Meanwhile, Rom and Starshine have arrived at the Beaverkill Valley in Northern Ontario, Canada to investigate what the ESPer agents had found to be indications of Wraith activity. In nearby Beaver Lake, Marrina dives deep to investigate the mysterious black waters. She finds strange fish eggs and retrieves them for the team to analyze. In the town below, strange monsters begin to attack the town and Snowbird of Alpha Flight comes to their aid followed soon after by the rest of the team. They are soon joined by Rom and Starshine against the amphibian invaders. Rom's Analyzer reveals them to be Wraith-warped fish and Shaman uses his mystical powers to counteract the Wraith spells. However, the fish quickly die in the polluted waters. The Wraiths then set to the task of bursting the dam and releasing the polluted waters on the town below.
Notes
Trivia
Recommended ReadingEdit
Links and ReferencesEdit
Footnotes
---
---
Ad blocker interference detected!
Wikia is a free-to-use site that makes money from advertising. We have a modified experience for viewers using ad blockers

Wikia is not accessible if you've made further modifications. Remove the custom ad blocker rule(s) and the page will load as expected.