161,806pages on
this wiki
Talk

0
History
A new armor built by Tony Stark after he and the other heroes returned from Franklin Richards' Counter-Earth.
Health problems linked to exposure to the power systems led to Stark abandoning this design into a new "safe" armor.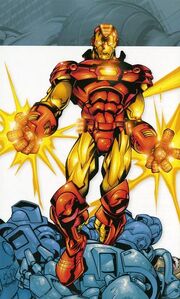 During his status as a fugitive from Norman Osborn, Tony used this armor again while on the run around the world.
Capabilities
Repulsors had variable settings. Like other armors, it maintained a unibeam. Pulse bolts were powerful but power drain limited their usage. In addition to standard sonics, a "sonic ramshot" could now be fired.
Explosive and tear gas pellets were stored in the left gauntlet. Flame-retardant foam was also stored.
The armor's communications with enhanced with a cellular phone and wireless modem.
Sensor upgrades included a Combex/Sonar system and seismographs.
A later add-on was a force bubble projector. This "hamster ball" provided protection for civilians.
A chin toggle was used for convenience (drinking water) and as a backup if the cybernetic link became damaged.

Notes
Trivia
See Also
Links and References
Footnotes