Below is an index of residents of Ohio. They exist on Earth-616 unless otherwise stated.
Resident Index of Ohio
Abraham (Earth-616)
Abe was a homeless person from Cleveland who was protected by Songbird from H.A.M.M.E.R.[1]
Amy (Ulysses Cain's Friend) (Earth-616)
Amy is a local of Point Pleasant, Ohio. She was the daughter of the county's sheriff. Amy was friends with Ulysses Cain since grade school and had become each other's confidante.
Together they made a pact, that if anything happened to any of them, the other had to get rid of anything embarrassing. Following Ulysses' disappearance, when he had been revealed to be an Inhuman and was secretly taken in by New Attilan, Amy fulfilled the pact and went to his house in order to retrieve a box he kept under his bed.
Some time later, P.I. Jessica Jones was investigating Ulysses for Tony Stark and she was eventually directed to Amy by her dad. Jones and Amy's dad visited her in job at the Frosty Town ice cream shop, and Amy showed Jessica the box, which turned out to contain nothing more than some adult magazines, spare change, drugs and miscellaneous mementos.[2]
Charlie (Bar With No Name) (Earth-616)
Charlie was an employee of the Bar With No Name located in Medina County.[3]
Meachum (Nurse) (Earth-616)
Nurse Meachum was young Bruce Banner's cruel baby sitter.[4]
Monique (Ohio) (Earth-616)
Single mother and She-Hulk's cellmate in Cleveland City lock-up.[5] She was later possessed by Bendigeidfran the Blessed.[6]
Taylor (Earth-616)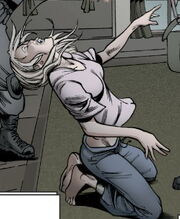 Taylor was Meifeng's girlfriend and was killed when her genetic data did not match what Dr. Cornelius was looking for.[7]
Thayer (Earth-616)
Mr. Thayer was one of Bruce Banner's high school teachers.[4]
Zack (Dayton) (Earth-616)
Zack and his friend witnessed the Ghost Rider confront Sin in ruined Dayton.[8]
References