History
Overview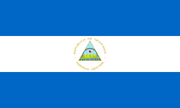 Nicaragua, officially the Republic of Nicaragua, is the largest country in the Central America. It'd capital city is Managua.
Events
Nuke was recalled from Nicaragua by the Kingpin.[1]
Some time later, in a Nicaraguan temple, a young girl named Alejandra was chosen to become the next Ghost Rider.[2]
She then defeated the Servicer with a swarm of locusts that came out of her mouth.[3]
Her power eventually consumed everyone in the temple, and when Johnny and the Seeker reached a village just outside the temple, they were all caught in the explosion.[4]
Somewhere in Nicaragua, Johnny Blaze found Mephisto and ordered him to give him a bike that he could fly into space.[5]

Points of Interest
See Also
Links and References
Footnotes