Real Name
Michael Julien Fichera
[1]
Characteristics
Place of Birth
New York City , New York State , United States of America
Date of Birth
December 24, 1969
Personal History
Environmental engineer, freelance writer / researcher of the OHotMU, staff writer at Spiderfan.org.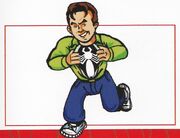 Professional History
First comics work published (Marvel Encyclopedia Vol. 4: Spider-Man, 2003); first time as head writer (Spider-Man: Back in Black Handbook, 2007)
Work History
Images Attributed to Mike Fichera
Notes
Trivia
See Also
Links and References
Footnotes
Ad blocker interference detected!
Wikia is a free-to-use site that makes money from advertising. We have a modified experience for viewers using ad blockers

Wikia is not accessible if you've made further modifications. Remove the custom ad blocker rule(s) and the page will load as expected.