History
Mew, short for Mewnir, is a white, short-haired cat that is Nancy Whitehead's pet.[4]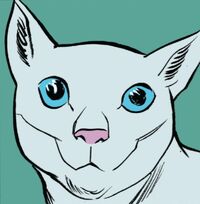 Mew prevented Ratatoskr from psychically infecting Doreen and Nancy.[5]
Mew and Tippy-Toe were both briefly abducted by a malfunctioning Brain Drain soon after Doreen and Nancy moved.[6]
Mew was briefly catnapped by Howard the Duck while he was searching for a cat named Biggs. She was quickly rescued by Squirrel Girl who then immediately had to save Howard from Kraven the Hunter and Shannon Sugarbaker.[7][8]
During Taskmaster's rampage in New York City, Doreen and Nancy's apartment was damaged allowing Mew outside. While out in the city, Mew ran into Lucky and they formed a quick friendship over pizza. Together, Lucky and Mew aided Squirrel Girl and the other superheroes in defeating Taskmaster in Washington Square Park.[1]

Powers and Abilities
Abilities
Mew is a baseline cat with abilities common to her species.
Notes
Trivia
Mew's diet consists of half a cup of kibble mixed with half a can of wet food per day.[9]
Links and References
Discover and Discuss
Footnotes
---
---