History
Max Levy was a patient at the St. Jude Children's Research Hospital. When Tony Stark visited them, Max was disgruntled because he wasn't wearing his suit of armor. Tony liked Max's skepticism towards his claims that he hadn't brought an armor, and subsequently revealed he had instead brought several.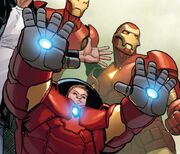 Tony even reconfigured his most recent suit to let Max wear it, and the kid was willing to use it on the doubtfully reformed Victor von Doom, who had interrupted Stark's visit.[1]
Trivia
This character is inspired by the real life Max Levy, a kid diagnosed with Hemophilia A whose family nicknamed him "Iron Max" when he got a port in his chest as part of his treatment, in a similar manner to which Tony Stark used his arc reactor. Together with his sister Zoe, Max created the Hearts 4 Hemophilia calendar, a project that has raised over U$S 7,000 to support the Children's Hospital of Philadelphia.[2]
Links and References
Discover and Discuss
Footnotes
---
---