Previous Issue
Next Issue
Appearing in "The Tomorrow War!"Edit
Featured Characters:
Supporting Characters:
Antagonists:
Other Characters:
Locations:
Items:
Vehicles:
Synopsis for "The Tomorrow War!"Edit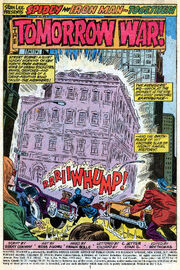 When
Avenger's Mansion
suddenly is enveloped in a mysterious energy barrier, both Iron Man and Spider-Man go to investigate. After unsuccessful attempts to breach the barrier, a portal appears and the two heroes travel into it. Finding themselves transported to the 23rd Century, the two battle all manner of futuristic weapons.
Rescued by Zarrko, the Tomorrow Man, who tells them that the captured Avengers are prisoner of an invader in this time, Spider-Man and Iron Man agree to break into the compound in which they are prisoner. After a battle with various futuristic opponents, and Iron Man running low on power, the two heroes find their time displaced friends. > However, this all proves to be a minor success as they are knocked out by the invader, Kang the Conquerer. However, before Kang can enslave them Zarrko enters the room trying to destroy Kang.


Notes
Iron Man's cover image logo is recycled 1960's Jack Kirby artwork from previous merchandising, particularly the Mighty Marvel Marching Society (M.M.M.S.) stationary pads given to its members.
The John Romita primary cover image will later also become a cover logo image for Iron Man beginning in Iron Man #89. This cover also serves as the cover for Essential Marvel Team-Up Vol 1.
As seen on page one, this issue is Story#1341-Z.
This issue contains a letters page, Mail It to Team-Up. Letters are published from Alberto Perez, Jr., Masao Kon, and Lon Wolfe. The letters page also contains a 1/2 page advertisement for Amazing Adventures #18 the first appearance of Killraven.

Trivia
The Mighty Thor is shown entrapped by Kang in a statis chamber but is not shown with Mjolnir. One can only assume that Mjolnir is behind the scenes and is an artist's omission. At this time, the enchantment was that if Thor was separated from Mjolnir for more than 60 seconds, he would have reverted to his mortal guise Don Blake. When Thor is freed in Marvel Team-Up #11, he is pictured again with his enchanted mallet.
Recommended ReadingEdit
Links and ReferencesEdit
Footnotes
---
---