History
Las Vegas is the most populous city in the state of Nevada, United States and an internationally known vacation, shopping, entertainment and gambling destination. The name Las Vegas is often applied to the unincorporated areas that surround the city, especially the resort areas on and near the Las Vegas Strip. This 4½ mi (7.2 km) stretch of Las Vegas Boulevard is mostly outside the Las Vegas city limits, in the unincorporated towns of Paradise and Winchester.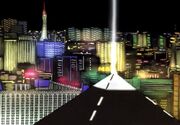 During Hydra's short-lived empire in control of the United States, a contingent of rebel heroes called the Underground used The Mount as base of operations, which resulted in a peak of rebel activity in the vicinity, including Las Vegas. Because of this, Hydra targeted Las Vegas, sending an army of Hydra Helicarriers to raze the city.[1]
Las Vegas (Earth-8545)
Las Vegas of this reality became home to one of the last remaining Avenger's Compounds on the planet. Vi-Locks were kept out by heavy duty disruptors that surrounded the city.


Points of Interest
Notes
Trivia
See Also
Links and References
http://en.wikipedia.org/wiki/Las_Vegas%2C_Nevada
Footnotes