History
The city Lanlak is on the planetoid Birj, which was a satellite of the gas giant Marman. It was once ruled by a vicious tyrant, Terrax. The city was originally called Terran.[2]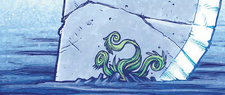 As the
Phoenix Force
erased all life on Birj by burning it, the city was destroyed in fire, leaving only
Terrax's Axe
planted into a flat ground, where life began regrowing the day after.
[3]
Points of Interest
Throne Room

Great Hall - Full of the head of both Science Council and Royal Family


Residents
Notes
Trivia
See Also
Links and References
Footnotes
↑

Fantastic Four Vol 1 211
Ad blocker interference detected!
Wikia is a free-to-use site that makes money from advertising. We have a modified experience for viewers using ad blockers

Wikia is not accessible if you've made further modifications. Remove the custom ad blocker rule(s) and the page will load as expected.