History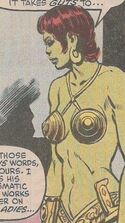 Ivich Williamson was a gladiator in the employ of Alexander Flynn when she first met the Dazzler. Dazzler has been drugged by another gladiator named Max Rocker into loosing her fine control of her mutant powers and also left her more open the Flynn's persuasion to become a member of the Gladiators.
During Dazzler's time with the Gladiators, Ivich became friends with her and began to worry about Max's and Flynn's interest in her.
After Flynn was deposed as the leader of the Gladiators they were taken over by the Shadow King when they came into conflict with the New Mutants.
Ivich's subsequent fate and whether or not she kept her mutant powers after the events of M-Day have yet to be revealed.

Powers and Abilities
Abilities
Ivich has strong swordsmanship skills.
Strength level
Ivich possesses the strength of a woman who engages is intense regular excersize.
Paraphernalia
Equipment
Sword
Links and References
Discover and Discuss
Footnotes
---
---
Ad blocker interference detected!
Wikia is a free-to-use site that makes money from advertising. We have a modified experience for viewers using ad blockers

Wikia is not accessible if you've made further modifications. Remove the custom ad blocker rule(s) and the page will load as expected.