COMICS NEWS
Civil War II
The drums of war between brothers-in-arms sound once again! Lines are drawn!
All-New, All-Different Marvel's titles revealed!
The future of the Marvel Universe is here!
Secret Wars
Coming this May 2015
Avengers NOW!
A new age for Marvel Comics approaches!
Original Sin
Everybody has one... What is yours?
Spider-Verse
It will take a Spider-Verse to defeat Morlun!
All-New Marvel NOW!
Discover which new Marvel titles are coming in the horizon!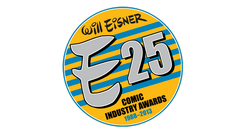 2013 Eisner Winners
The ceremony was held last night at San Diego Comic Con and we've got the complete list of winners. This is a great way to jump-start your Christmas wishlist!
Who Owns Ghost Rider?
A recent turn of events puts creator Gary Friedrich back in the drivers seat for the fate of Johnny Blaze. Will Judge Chin's decision opens the door for further debate on ambiguous work-for-hire contracts of the past?
Were They Evil During Civil War?
A fair question posed by 'Blinkn', about Iron Man and Mr. Fantastic's behaviour during the events of Civil War. Were they justified in their actions? Does that even matter? Read Blinkn's comments and weigh in on the topic.