Characteristics
Notable Creations
Black Widow, Green Giant, Air Man, Namor The Submariner,
Place of Birth
New York , United States of America
Date of Birth
July, 23 1919
Personal History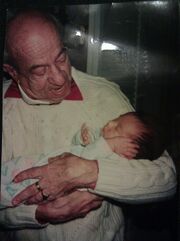 Professional History
George Kapitan worked for Timely Comics during the Golden-Age of comic books. In 1940, with Harry Sahle, Kapitan co-created the Timely character the Black Widow, one of Timely Comics' first costumed, superpowered female protagonist.
Work History
Images Attributed to George Kapitan
Notes
Trivia
See Also
Links and References
Footnotes
Ad blocker interference detected!
Wikia is a free-to-use site that makes money from advertising. We have a modified experience for viewers using ad blockers

Wikia is not accessible if you've made further modifications. Remove the custom ad blocker rule(s) and the page will load as expected.