Full Acclimation Combat And Defence Explo-skeleton (Earth-616)
Talk

0
Share
Ad blocker interference detected!
Wikia is a free-to-use site that makes money from advertising. We have a modified experience for viewers using ad blockers

Wikia is not accessible if you've made further modifications. Remove the custom ad blocker rule(s) and the page will load as expected.
History
The Full Acclimation Combat And Defence Explo-skeleton (F.A.C.A.D.E.) body armor was a ground-breaking prototype manufactured by Morelle Pharmaceuticals under the auspices of Dr. Thomas Haney. The suit was stolen during its first celebrity-studded showing, and its inventor was accidentally killed in the process. [1]
Daily Bugle photographer Lance Bannon took a picture of the culprit, but was murdered by F.A.C.A.D.E. before he could show it to anyone. [2]
The F.A.C.A.D.E. armor was eventually disabled by Spider-Man, but Spider-Man was knocked unconscious in the process and the occupant of the suit escaped. [3]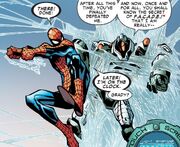 Years later, after the events of Spider Island, Spider-Man apprehended someone using the F.A.C.A.D.E. armor. The occupant was willing to reveal his identity after finally being captured (having an inflated sense of his own importance). However, Spider-Man had other things demanding his attention at the time, so he left the scene before the revelation of the identity of the person in the exo-skeleton. [4]

Powers and Abilities
Notes
Trivia
During his time as director of H.A.M.M.E.R., Norman Osborn received an intelligence briefing that seemed to contain the true identity of F.A.C.A.D.E. However, the text revealing the name had been torn off. [5]
Links and References
Discover and Discuss
Footnotes
---
---