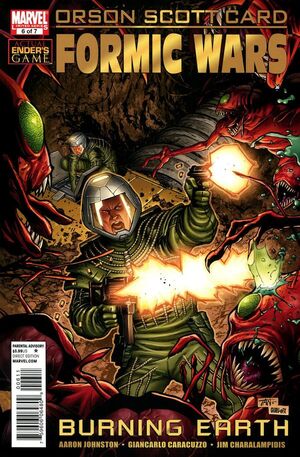 Textless
Previous Issue
Next Issue
Appearing in the 1st StoryEdit
Featured Characters:
Victor Delgado
Mazer Rackham
Wit O'Toole
Supporting Characters:
Imala Bootstamp
Lem Jukes
Wit O'Toole
Antagonists:
Other Characters:
Races and Species:
Locations:
Items:
Vehicles:
Synopsis for the 1st StoryEdit
Victor attempts to join the army, but gets denied because he was born in space and can not represent a country. He goes to the Lunar Trade Department to complain with Imala and finds she is talking with Lem Jukes. Lem tells Victor he knows which asteroid on which his mother takes refuge.
In the Juke Production Facility, Ukko Jukes talks with the manager and urges him to speed up production of the drones retrofitted with gravity lasers. He says they have the best chance of penetrating the Formic shields. On the moon dock, Victor prepares a small ship. He tells Imala that since his family breached the hull of the ship before, he can cut a hole, go inside, and destroy the ship. Imala replies that since he is still under her supervision, she should come with him on the mission.
In China, Mazer instructs Wit O'Toole and his small group of MOPs, Mobile Operations Police, on how they will use drill-skis to destroy a lander. He explains that the vehicles scrape up earth and rock in the front and ejects the heated rock out the back in the form of lava. Mazer plans on going under the lander, evading the Formics' shield. Deen's drill-ski will hold a tactical nuke which he will place and then climb into another drill-ski. Mazer and Wit will accompany Deen in their own drill-skis.
As Mazer, Wit, and Deeb drill underneath the lander and prepare to attack, they hit an air pocket. Mazer positions his drill-ski to melt the hull and Deen and Wit prepare to drive their drill-ski into the lander. As Formics swarm the tunnel, Mazer burns a hole in the lander's hull and Deen rides into the lander through the hull. Wit plans on retrieving Deen, but Deen says he knew the mission was suicidal and urges Wit to leave. The lander explodes, and Mazer and Wit get arrested by the Chinese government as soon as they resurface.


Notes
Solicit Synopsis:
This is not a war. It's a massacre. The Chinese army is decimated. The countryside smolders in ashes. Nothing and no one has stopped the Formics. Bombs, tanks, troops. Fail. Fail. Fail. Until now. Mazer Rackham has teamed up with the Mobile Operations Police, the super elite special forces unit that previously rejected him. Their plan? Destroy a formic lander. How? By going deep underground, down in the formic tunnels ... where swarms of Formics are ready and waiting. Will they turn the tide of war or dig their own graves? The exciting prequel to Ender's Game continues. From bestselling author and science-fiction legend Orson Scott Card.
Trivia
Wit O'Toole's line, "punch it," references Star Wars.
Recommended ReadingEdit
Links and ReferencesEdit
Footnotes
---
---