Ad blocker interference detected!
Wikia is a free-to-use site that makes money from advertising. We have a modified experience for viewers using ad blockers

Wikia is not accessible if you've made further modifications. Remove the custom ad blocker rule(s) and the page will load as expected.
Fear Itself
Event Details
Characters
Event Synopsis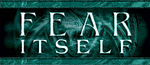 The Serpent, the self-proclaimed True All-Father of Asgard, awakens from his dark prison beneath the ocean, set free by his First Worthy, Skadi. As he begins to spread fear throughout Earth, the Asgardians go back to Asgard, leaving the heroes of Earth to fend for themselves, while the fear generated by the general human populace helps to power The Serpent. Many major characters were featured, such as the X-Men, the Avengers and the Future Foundation. One of the main villains is Sinthea Shmidt, daughter of the Red Skull.
The Serpent, the primary villain of the storyline, also gives seven special hammers to other super-powered people: Hulk, Juggernaut, Attuma, Absorbing Man, Titania, Thing and Grey Gargoyle are turned into The Worthy, who help him spread chaos across Earth.
Reading Order
Fear Itself: Book of the Skull #1
Journey into Mystery #622 until page 25
Fear Itself #1
Journey into Mystery #622 from page 25 to the end
Fear Itself: The Home Front #1
Fear Itself #2
Invincible Iron Man #503 from page 20 to the end
Journey into Mystery #623
Invincible Iron Man #504
Invincible Iron Man #505
Fear Itself: Deadpool #1
Fear Itself: Deadpool #2
Fear Itself: Deadpool #3
Ghost Rider Vol 7 #0.1
Ghost Rider Vol 7 #1
Ghost Rider Vol 7 #2
Secret Avengers #13
Iron Man 2.0 #5
Iron Man 2.0 #6
Iron Man 2.0 #7
Fear Itself: Monkey King #1
Thunderbolts #158 until page 17
Fear Itself: The Home Front #2
Herc #3
Fear Itself: Youth in Revolt #1
Avengers Academy #15 until page 16
Fear Itself #3
Avengers Academy #15 from page 17 to the end
Avengers Academy #16
Avengers Academy #17 until page 6
Fear Itself: The Worthy #1
Fear Itself: FF #1
Heroes for Hire Vol 3 #9
Heroes for Hire Vol 3 #10
Heroes for Hire Vol 3 #11
Thunderbolts #158 from page 17 to the end
Thunderbolts #159
Fear Itself: Spider-Man #1
Fear Itself: Spider-Man #2
Fear Itself: Spider-Man #3
Avengers Vol 4 #13
Avengers Vol 4 #14
Hulk Vol 2 #37
Hulk Vol 2 #38
New Avengers Vol 2 #14
New Avengers Vol 2 #15
New Avengers Vol 2 #16
Fear Itself: Wolverine #1
Fear Itself: Wolverine #2
Fear Itself: Wolverine #3
Fear Itself: Uncanny X-Force #1
Fear Itself: Uncanny X-Force #2
Fear Itself: Uncanny X-Force #3
Avengers Vol 4 #15
Herc #4
Ghost Rider Vol 7 #3
Ghost Rider Vol 7 #4
Alpha Flight Vol 4 #0.1
Alpha Flight Vol 4 #1
Fear Itself: The Home Front #3
Fear Itself: The Home Front #4
Thunderbolts #160
Fear Itself: Fearsome Four #1
Fear Itself: Fearsome Four #2
Fear Itself: Fearsome Four #3
Fear Itself: Fearsome Four #4 (Sort of retconned in Vengeance Vol 1)
Thunderbolts #161
Thunderbolts #162
Fear Itself: Youth in Revolt #2
Fear Itself: Youth in Revolt #3
Fear Itself: Youth in Revolt #4
Fear Itself: Youth in Revolt #5
Fear Itself: Youth in Revolt #6 until page 17
Secret Avengers #14
Black Panther: The Man Without Fear #521
Black Panther: The Man Without Fear #522
Black Panther: The Man Without Fear #523
Fear Itself: The Deep #1
Fear Itself: The Deep #2
Fear Itself: The Deep #3
Uncanny X-Men #540
Avengers Vol 4 #16
Journey into Mystery #624
Journey into Mystery #625
New Mutants Vol 3 #29
Journey into Mystery #626
New Mutants Vol 3 #30
New Mutants Vol 3 #31
New Mutants Vol 3 #32
Avengers Vol 4 #17
Fear Itself #4
Secret Avengers #15 (Retconned)
Fear Itself: The Deep #4
Herc #5
Herc #6
Uncanny X-Men #541
Uncanny X-Men #542
Uncanny X-Men #543
Fear Itself: Black Widow #1
Fear Itself #5
Fear Itself: Hulk vs. Dracula #1
Fear Itself: Hulk vs. Dracula #2
Fear Itself: Hulk vs. Dracula #3
Fear Itself: The Home Front #5
Fear Itself: The Home Front #6
Avengers Academy #17 from page 7 to the end
Avengers Academy #18
Avengers Academy #19
Invincible Iron Man #506
Invincible Iron Man #507
Invincible Iron Man #508
Invincible Iron Man #509
Fear Itself #6
Fear Itself #7 without the epilogues
Journey into Mystery #628
Journey into Mystery #629
Journey into Mystery #630
Fear Itself: The Home Front #7
Mighty Thor #7
Fear Itself: Youth in Revolt #6 from page 18 to the end
Avengers Academy #20
Fear Itself #7.1
Fear Itself #7.3
Fear Itself #7.2
Fear Itself: The Fearless #1
Fear Itself: The Fearless #2
Fear Itself: The Fearless #3
Fear Itself: The Fearless #4
Fear Itself: The Fearless #5
Fear Itself: The Fearless #6
Fear Itself: The Fearless #7
Fear Itself: The Fearless #8
Fear Itself: The Fearless #9
Fear Itself: The Fearless #10
Fear Itself: The Fearless #11
Fear Itself: The Fearless #12

Notes
Trivia
See Also
Links and References
Footnotes
Fear