History
Finnegan was a professional wrestler in New York City. He was the idol of the Yancy Street Gang. Finnegan was in a match with Ben Grimm who appeared to play along with the script until "Fatal" made a comment about Ben's girlfriend Alicia Masters. Ben then quickly pummelled Finnegan and bound him outside the ring. [1]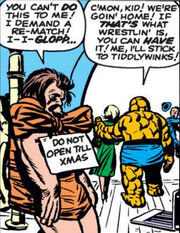 Links and References
Discover and Discuss
Footnotes
---
---
Ad blocker interference detected!
Wikia is a free-to-use site that makes money from advertising. We have a modified experience for viewers using ad blockers

Wikia is not accessible if you've made further modifications. Remove the custom ad blocker rule(s) and the page will load as expected.