History
The origin of Director X is unknown. At one point, he became head of Department H. Under his command, Department H began using more clandestine and illegal methods to achieve their goals. He employed the Zodiac to battle Alpha Flight to test the Flight's battle-readiness.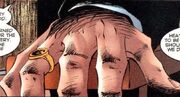 Director X resides on the 66th floor of the Department H complex surrounded by Epsilon Black guards. He wears a serpent ring on his right hand ring finger, the origin of which is not known.
After the death of General Clarke, the Director seemingly revealed a more humanitarian side. He recruited Mr. Gentry (a much more ethical man) to supervise the activities of Alpha Flight. He also informed Gentry that the "Sasquatch" who had died during a recent battle was not, in fact, Walter Langkowski.[1]
Links and References
Discover and Discuss
Footnotes
---
---
Ad blocker interference detected!
Wikia is a free-to-use site that makes money from advertising. We have a modified experience for viewers using ad blockers

Wikia is not accessible if you've made further modifications. Remove the custom ad blocker rule(s) and the page will load as expected.