History
Dawn of the Gods
Demiurge is the sentient life force of Earth's biosphere who seeded the Earth with 'pieces' of its own life essence, giving birth to the Elder Gods. Eventually all of the Elder Gods, save for Oshtur and Gaea, descended into degeneracy, becoming life-destroying demons. To stop them, Gaea meditated, and mated with the Demiurge, conceiving within her a force to fight them, Atum.[2]
Modern Age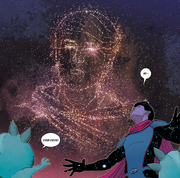 William Kaplan
, born to
Rebbecca
and
Jeff Kaplan
in
New York City
,
[3]
was destined to become the omnipotent Demiurge.
[4]
The trickster god
Loki
tried to take advantage of this by manipulating Wiccan into giving him his power.
When the Young Avengers faced an interdimentional parasite known as Mother, Billy tried to tap into the power of Demiurge, but failed.[5] Once Loki freed Hulkling, Hulkling comforted Billy, and reconciled with him. Their reunion allowed Billy to achieve his full potential, and finally destroy Mother, and get rid of the alternate Young Avengers.[6]
Links and References
Discover and Discuss
Footnotes
---
---
Ad blocker interference detected!
Wikia is a free-to-use site that makes money from advertising. We have a modified experience for viewers using ad blockers

Wikia is not accessible if you've made further modifications. Remove the custom ad blocker rule(s) and the page will load as expected.