Ad blocker interference detected!
Wikia is a free-to-use site that makes money from advertising. We have a modified experience for viewers using ad blockers

Wikia is not accessible if you've made further modifications. Remove the custom ad blocker rule(s) and the page will load as expected.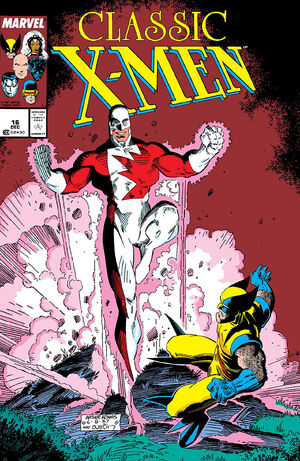 Back Cover Pinup
Previous Issue
Next Issue
She could have a concussion - or worse! An ye - Major Maple Leaf, or whatever ye call yerself - ye're the man responsible!

-- Banshee
Appearing in "Home Are the Heroes!"Edit
This story is a reprint of the comic
X-Men #109.
For a full synopsis, please see the comic linked in this message box. Any new or updated information can and should be added to this page. Otherwise, the majority of the information contained on this page is similar to that of the comic linked in this message box.
Featured Characters:
Supporting Characters:
Villains:
Other Characters:
Locations:
Items:
Vehicles:
Synopsis for "Home Are the Heroes!"Edit


--For a full synopsis of this comic, please see the original publishing of this comic in X-Men #109.--



Appearing in "Dearest Friend"Edit
Featured Characters:
Supporting Characters:
Villains:

Other Characters:
Charley Sandy - police deputy (Only Appearance)[1]
Damien McLanahan - police sergeant (Only Appearance)[1]
Locations:
Items:
Vehicles:
Synopsis for "Dearest Friend"Edit
Many years ago:
In Ireland, a police sergeant named Damien McLanahan and a deputy named Charley Sandy stop a young Sean Cassidy on the side of the road. McLanahan mistakenly suspects that Cassidy is running guns to the Irish Republican Army and prepares to take him into custody. Suddenly, a leather-clad woman on a motorcycle speeds by and scoops Sean up before racing down the canyon. McLanahan and Sandy give chase and run the cycle off of a ravine. Sean is forced to use his mutant powers to fly the cyclist and he to safety.
He takes her to Cassidy Keep where he learns that the young woman's name is Maeve Rourke. He introduces her to his brother, Tom Cassidy, and both men begin to vie for Maeve's affections.
Over the span of several months, Maeve dates both Sean and Tom respectively, never promising a commitment to either one. One night, Sean decides to ask Maeve to marry him. He goes to meet up with her, but runs into Sgt. McLanahan. McLanahan runs Sean off the road, greatly injuring him.
Sean survives, but he is greatly injured. He stumbles back to Cassidy Keep where he tells his brother what has transpired. He asks Tom to find Maeve and explain why he cannot show up for their date tonight. Tom takes advantage of the moment and takes Maeve out in Sean's place. He eventually confesses the truth however, and Maeve is grateful for his earnestness.


Appearing in "untitled"Edit
Featured Characters:
Locations:
Synopsis for "untitled"Edit
Back cover pinup.


Notes
Main Story Notes
Although it is never mentioned by name in this issue, the Canadian agency that both Weapon Alpha and Wolverine associated with is called Department H.
Dearest Friend Notes
The final page of this story continues on the inside back cover.
Earliest chronological appearances of Banshee. Chronologically, Banshee appears next in flashback in X-Men Annual #3.
First known appearance of Maeve Rourke. Following events from this story, Maeve and Sean eventually get together and have a child named Theresa.

Trivia
This is the first comic book issue where Wolverine is referred to as Weapon-X.
Wolverine is still wearing Fang's Imperial Guard costume from issue #108 in the beginning of this story.
On page 5, Cyclops remarks about how different Jean Grey has become in recent weeks. Originally, writer Chris Claremont intended Jean Grey and the Phoenix to be the same person. It wasn't until years later that it was revealed that the Phoenix entity and the true Jean Grey were completely separate characters. However, Cyclops' dialogue in this issue helps to support the retroactive continuity as it relates to the Phoenix storyline.

Related Articles
Recommended ReadingEdit
Links and ReferencesEdit
Footnotes
---
---