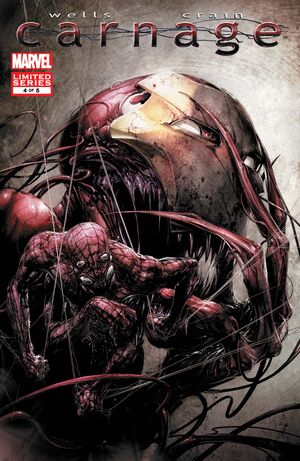 Textless
Previous Issue
Next Issue
Ha ha ha ha ha! Where's Mikey Hall at? I got some words I wanna stab in his ears.

-- Carnage
Appearing in the 1st StoryEdit
Featured Characters:
Supporting Characters:
Antagonists:
Other Characters:
Locations:
Earth

(Flashback and main story)
Items:
Vehicles:
Synopsis for the 1st StoryEdit
Carnage goes on a rampage while searching for Michael Hall, who sends in his men to stop him. However, the pieces of symbiote inside their armor prevent them from moving and they are merged with Carnage before Spider-Man and Iron Man can save them. They then start to fight.
At Hall Industries, Shriek and Doppelganger find Tanis Nieves and discover that she is carrying Carnage's baby, which is growing on her prosthetic arm. Tanis begs Shriek for help, saying that it is trying to take control of her mind, but she refuses. The symbiote continues to ask Tanis to feed it and Shriek tells her to accept her responsibility. Tanis grabs a piece of glass and tears her prosthetic arm off. Shriek picks it up and claims it for herself.
Meanwhile, as they continue to fight, Iron Man slams a vehicle on top of Carnage. Just as he recovers, Doppelganger and Shriek, now bonded with the symbiote, appear.


Notes
No special notes.

Solicit Synopsis:

Spider-Man vs. Carnage vs. Iron Man. This book is the sound of heavy metal thudding on your brain.
Trivia
Recommended ReadingEdit
Links and ReferencesEdit
Footnotes
---
---
Reviews
Weekly Video Review
This review is of Carnage #4, and I gave it a 3/5.
Plot or ending details follow. Please skip this section if you do not want foreknowledge of this plot.

Spoilers in the video! Read the book before watching, you'll be glad you did. :)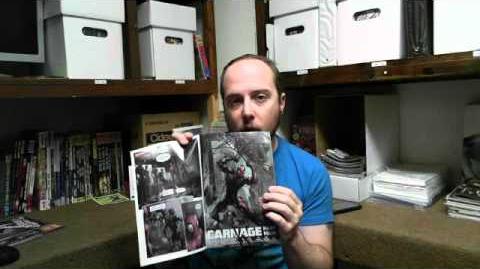 — Nathan (Peteparker) (Earth-1218) (talk • contribs • email) 18:53, April 16, 2011 (UTC)
Ad blocker interference detected!
Wikia is a free-to-use site that makes money from advertising. We have a modified experience for viewers using ad blockers

Wikia is not accessible if you've made further modifications. Remove the custom ad blocker rule(s) and the page will load as expected.