Below is an index of residents of Brooklyn. They exist on Earth-616 unless otherwise stated.
Resident Index of Brooklyn
Allen (Earth-616)
Allen was the boyfriend of Clara Cooper, Nathan Cooper's ex-wife aka the Megaman. When Nathan's nephew Caps Cooper went to Clara's house to warn her that his uncle was alive and was back, Allen slapped him loudly calling him a liar, but in turn he himself was beaten up by Megaman when he realized he moved on with his wife.[2]
Augie (Earth-616)
Augie and his partner were defeated by Captain America when they tried to loot councilman Andrew Bolt's office.[3]
Charlie (Drug Manufacturer) (Earth-616)
Charlie was a member of the gang of drug manufacturers in Brooklyn and was present when their manufacturing lab was attacked by Cloak and Dagger.[4]
Chris (Supremacist) (Earth-616)
Chris was a high school student and a member of a group of white supremacists.[5]
Dan (Earth-616)
Dan was A.J. Patton's husband. Dan questioned his husband's decission of inviting Flash Thompson, his high school bully, to their house for closure, but A.J. said that looking at Thompson only made him feel pity now.[6]
Dom (Earth-616)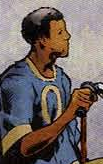 Dom was one of Captain America's neighbors in Red Hook.[7]
Doug (Earth-616)
Doug was a salvage yard worker working in the dump when the Freak emerged between the rubbish and the following clash between him and Spider-Man.[8]
Gina (Cyclone) (Earth-616)
Gina came across Daredevil during a fight against Bullseye. She then talked to him until he recovered about both of them's motivations to fight each other.[9]
Ivan (Black Cat) (Earth-616)
Ivan was a member of the Black Cat's Gang.[10]
He was confronted by Hawkeye and Deadpool.[11]
Ivan was later reprimanded by the Black Cat for failing to find Jeremy Ellsden's hard drive.[12]
Ivan was eventually caught and arrested by the S.H.I.E.L.D..[13]
Janet (Kid) (Earth-616)
Janet and her friend Davy were saved by Doctor Strange from the Bottle Imp.[14]
Kate (Brooklyn) (Earth-616)
Kate was Sal's wife.[15]
She was informed by Steve Rogers about Pasha Sanquino.[16]
Kate actually manipulated Steve to take Pasha away from his father.[17]
Larry (Cyclone) (Earth-616)
Larry was a former boxer and the owner of the Cyclone Bar & Grill. He took Daredevil and cared for him inside the bar following a fight against Bullseye.[9]
Mark (Earth-616)
Mark was playing with the racquet with a friend on Lafayette Avenue when an oncoming car with its driver distracted by the cellular just as Mark's was in the middle of the road and was about to be invested by it but thanks to the intervention of Daredevil the tragedy was avoided.[18]
Martin (Earth-616)
A boy whom Steve Rogers taught to respect the flag of their homeland.[19]
Martin (Coney Island) (Earth-616)
During the Mardi Gras parade in Coney Island, a terrorist threw a flaming bomb at a car in the parade and Mr. Martin was the only survivor of the car managing to tell the Human Torch that there were smugglers in the tower just before losing consciousness.[20]
Michael (Teacher) (Earth-616)
Michael was a teacher and Arnie Roth's boyfriend, who died in an attack against Captain America by Helmut Zemo.[21]
Pickles (Cat) (Earth-616)
Pickles was Jeremy Ellsden's pet cat.[22]
A 160 gig drive was found by Deadpool attached to his collar.[11]
Pickles was eventually adopted by Mrs. Horovitz.[13]
Tony (Frizini) (Earth-616)
Tony was one of Charles Medford Frizini's henchmen.[15]
Tony (Red Hook) (Earth-616)
Tony was a gang leader from Red Hook who was persuaded by Captain America to put the guns down.[7]
Former Residents
Jay (Earth-616)
Jay was a robber who confronted the Young Masters during one of their self-recorded "heroic acts". However, he was brutally killed by Big Zero, who simply grew up in size and stomped on him.[23]
Larry (Homeless) (Earth-616)
Larry approached Matthew Murdock and told him he knew who was after him.[24]
He was a homeless boy, who was paid for medical testing in order to replicate Daredevil's powers.[25]
References