History
A member of the Fantastic Five, Arachnosaur was brainwashed into battling Excalibur by the High Evolutionary. He fought Shadowcompsognathus who used her phasing powers to short-circuit Arachonsaur's web-shooters, trapping him in a mass of webbing.[1]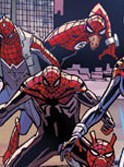 Arachnosaur later appeared as part of Spider-UK's army of spider-totems, and was killed by the Inheritors when their safe zone was attacked.[2]

Powers and Abilities
Powers
Seemingly those of Peter Parker of Earth-616
Notes
Arachnosaur shares similarities with his Earth-772 counterpart. Both are the member of the Fantastic Five of their reality.
Links and References
Discover and Discuss
Footnotes
---
---
Ad blocker interference detected!
Wikia is a free-to-use site that makes money from advertising. We have a modified experience for viewers using ad blockers

Wikia is not accessible if you've made further modifications. Remove the custom ad blocker rule(s) and the page will load as expected.