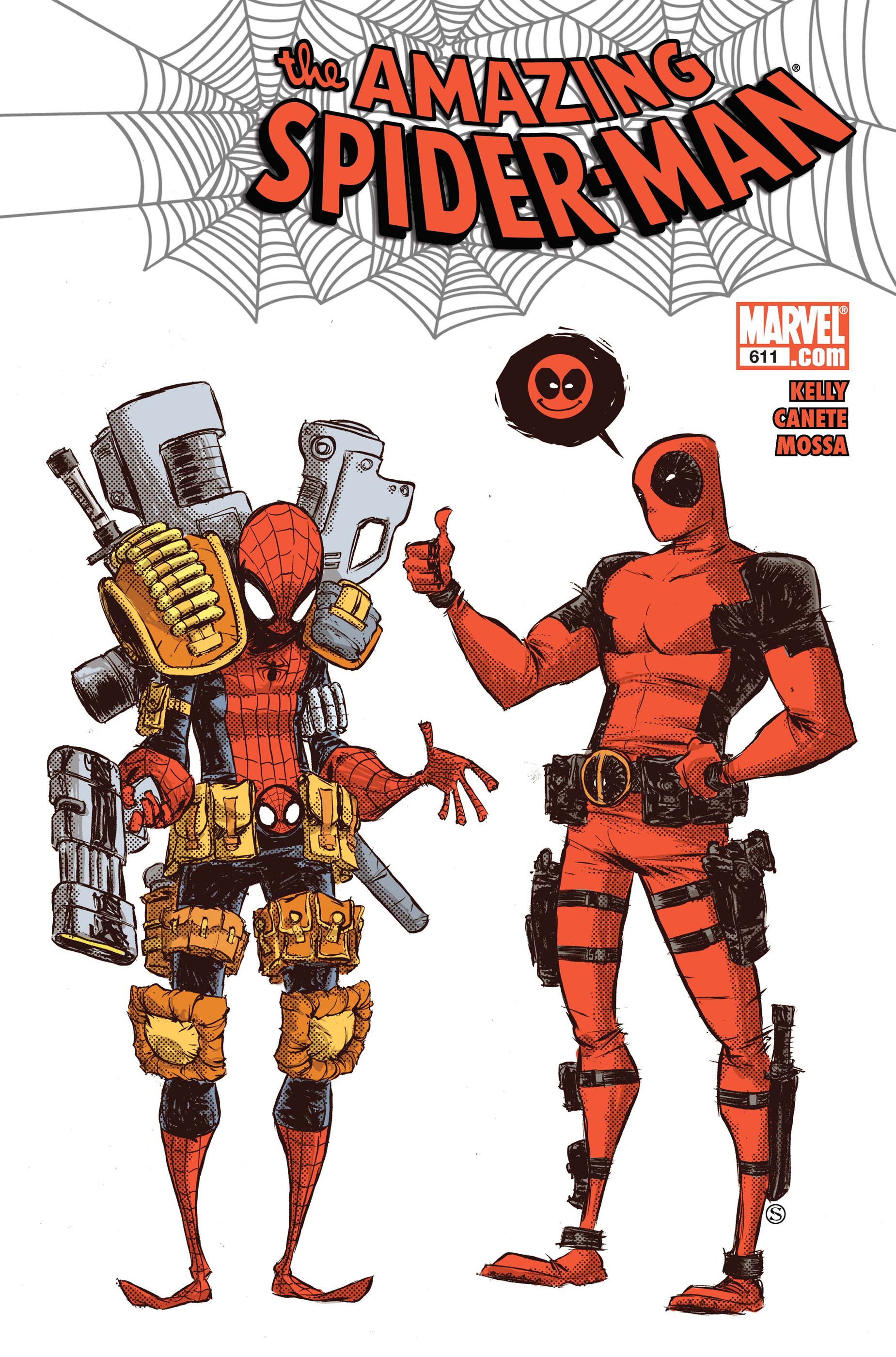 Textless

Solicit
Web-Heads
Gale, Kelly, Slott, Van Lente, Waid & Wells
Previous Issue
Next Issue
| | |
| --- | --- |
| Spider-Man | |
| Deadpool | Dead of Embarrassment because her son went to the barber to get his palms shaved after he shot webbing all over her couch. |
| Spider-Man | Your mother is so ugly that a Skrull tried to copy her during the invasion and died...of ugly. |
| Deadpool | Your mother's so stupid she tried to get bailout money so she could afford to pay attention. |
| Spider-Man | Your mother's so stupid she thinks Cheerios are donut seeds. |
| Deadpool | Your mother's so fat, Hank Pym had to beat her up in the back of a Quinjet. |
| Spider-Man | And your mother's so ugly--she made this! (pulls off Deadpool's mask) |
| Deadpool | Foul! Foul!!! That was low. Really low. You leave me no choice...but to hit you the mutha of all yo' mutha jokes! Yo' Mamma-Geddon. I busted this one out in the fourth grade. Reduced a gym teacher...a Marine...into a quivering mess of jelly. He never taught again. The second time. In eighth. A girl's pancreas ruptured. She never taught to begin with. And now she can't eat sugar either. I spent the rest of my life refining this crack...Hand-crafting each word...Distilling it into the single most devastating diss ever uttered. I sold it to the Mossad Training Corps...Though I admit, it doesn't work the same in Hebrew. People just bite off their own tongues. But in English. The three people that heard it were so shattered they all died within twenty-four hours...Dehydration from crying. That's a lot of tears, bro. |
| Spider-Man | |
| Deadpool | Your mama--BDEET! BDEET! Ahhhh. That's a wrap. Man, I can't believe I almost hit you with the Yo' Mamma-Geddon. |
| Spider-Man | |
Appearing in "This Man, This A-Expletive Deleted-E"Edit
Featured Characters:
Supporting Characters:
Villains:
Other Characters:
Prostitutes dressed as famous marvel women:
Emma Frost
Mystique
Black Cat
Elektra
Madame Masque
Spider-Woman (Jessica Drew)
Clea
Locations:
Items:
Vehicles:
Taxis
A motorcycle
Quinjet

(Mentioned)




Solicit SynopsisEdit
Deadpool-Man, Deadpool-Man – does whatever a Deadpool can…spins a web any size – but not really…Deadpool's don't have webs. Look out! Here comes the Deadpool-Man! What force on Earth has brought the Merc with a Mouth and the Webheaded Wonder closer together than Quesada and Twitter? And how does it tie to the upcoming Spider story The Gauntlet?! And finally – WHO IS LADY STILT-MAN?! Joe Kelly (DEADPOOL CLASSIC; This issue of AMAZING SPIDER-MAN) and Eric Canete (IRON MAN: ENTER THE MANDARIN) bring you 2079's top Marvel Comic of the last 70 years (sorry, Dazzler #500)!


Notes
This issue is reprinted in comics and books, see references for more info.[1]
Spider-Man and Deadpool meet next in Deadpool Vol 2 #19.

Trivia
Recommended ReadingEdit
Links and ReferencesEdit
http://marvel.com/catalog/?id=13233
Footnotes
↑ This issue is reprinted in the following comics/TPB's:
---
---