World War Hulk: X-Men Vol 1 1
Talk

0
108,232pages on
this wiki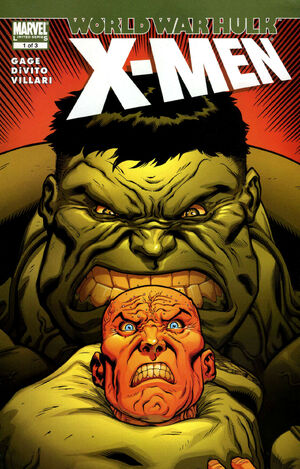 Textless
Previous Issue
Next Issue
—
So I'm asking you a question. If you'd been there, when they were debating whether to RUIN MY LIFE...how would you have voted?

-- Hulk
Appearing in "Hard Questions"Edit
Featured Characters:
Supporting Characters:
Villains:
Other Characters:
Locations:
Items:
Vehicles:
Synopsis for "Hard Questions"Edit
The Hulk arrives at the Xavier's Institute and demands to see Professor Xavier. The Beast and a group of New X-Men, whom he had been training, confront the Hulk while Professor X sees to the rest of the students. Just as the Hulk defeats them, the X-Men arrive to battle him. Before they begin, Professor X stops them and probes Hulk's mind, allowing him and other X-Men to learn what happened to him on Sakaar. The Hulk then asks Xavier how he would have voted, had he been present at the meeting where they sent the Hulk into space.


Takes place during the events of World War Hulk #1. [1]

Solicit Synopsis:

When the Illuminati voted to shoot the Hulk into space, Professor X wasn't there...but the Hulk just found out he was supposed to be. So he shows up at the Xavier Institute to ask a few pointed questions, Hulk style. With the other teams away, only Beast and the New X-Men stand between the massive rage of the Hulk and the Professor...not to mention the younger students who'd be caught in the crossfire. Can the X-Men-in-training survive the wrath of the Jade Giant until the other X-teams get back? Or will the young mutants become casualties of the World War Hulk?
Recommended ReadingEdit
Links and ReferencesEdit