Wanda Lensherr (Earth-1610)
Talk

7
117,441pages on
this wiki
Wanda Lensherr Maximoff, the Scarlet Witch, was the daughter of Magneto and the sister of Quicksilver. She had the ability to alter probability fields with her hex-spheres.
Wanda was a passive member of Magneto's team and after her father's apparent death began working with the Brotherhood, participating in the rescue of the X-Men from Weapon X. She helped lead the Brotherhood for a while, all the while keeping in touch with Charles Xavier to promote a more peaceful mutant-human integration. When Magneto returned, she and her brother fled, although he caught them. Magneto injured Quicksilver, but left Wanda unhurt. Eventually, both Wanda and her brother joined the Ultimates.
They had not abandoned their ties to Magneto's Brotherhood of Evil Mutants, they still believed in mutant supremacy. Because of their mutant status, they remained a part of the black ops section of the Ultimates.
An Ultron unit Wanda had previously flirted with somehow had his program altered by her touch. He became obsessed with her and saw Pietro as his rival. Ultron realized that Wanda would never be his, so he killed her with bullet specified directly to her DNA. [1] Ultron proceeded to create android duplicates of the Ultimates, including one of Wanda, so that he could seem like a hero to the robotic Wanda.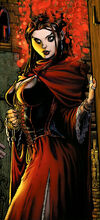 Wanda's False Return
In a unexplained turn of events, Wanda returned to the living. It appears her death was premature and that she has rejoined Pietro in the Brotherhood's goal of regaining their mutant supremacy.[2] Apparently, she only exists in Pietro's imagination, showing that her death still causes him great grief and mental anguish. [3]
Later is revealed that Wanda is in fact alive, possibly because she was using her powers when Ultron's bullet reached her. She ordered her brother to go to Egypt, where he found their father alive.
When Mr. Sinister returned, as well as Apocalypse, he revealed Wanda's return to be an illusion made by Apocalypse.

Powers and AbilitiesEdit
Powers
Wanda is a mutant that can manipulate probability to create a wide range of effects.
Abilities
Her powers are developed to such a level that she can teleport to the exact place she wants to teleport to.
Strength level
Strength level unknown; at one mission she was able to steal all Pakistani nuclear missiles at same time.
Weaknesses
Even though she can control probability to prevent herself from being hurt, if caught off guard she can be injured just as any normal human.

ParaphernaliaEdit
Transportation
She can fly or teleport with her powers.

Discover and Discuss
Footnotes
---
| | | |
| --- | --- | --- |
| Like this? Let us know! | | |
---