MysteryScooby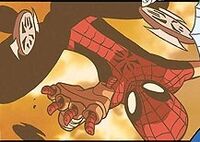 Real Name
Matthew Jovellanos Vollmer
Current Alias
User:MysteryScooby
Aliases
Spider-Man
, Vollmer, Scooby Vollmer, Albert Cruz,
Aqua Sentinel Badger
, Crystal Methew, Gooby, MysteryScooby, Thew,
Spidey
,
Robin
,
Spiderboy Peter Ross
, Steven,
Lethal
, The Admin,
Matt
, The Manager, Matty V.,
Spider-Boy/Pete Ross
Affiliation
Formerly Sweetwater High School Track Team, Granger Junior High School Knowledge Bowl, Rancho La Nacion Elementary Peace Builders, Rancho La Nacion Elementary Track Team
Characteristics
Status
Education
High School (not yet graduated)
Origin
Pages
Powers and AbilitiesEdit
Powers
None
Former Powers
Spider-Sense: Like Spider-Man or Scarlet Spider, Matthew possed a spider-sense. Unlike Peter's or Kaine's, Matthew's Spider-Sense told him when people were near (didn't matter if they were a threat or not). This ability was lost at age 11 due to unknown circumstances.
Strength level
Average: Vollmer has the strength of a man his height and age who engages in regular excercise.

ParaphernaliaEdit
Equipment
See Also
Links and ReferencesEdit