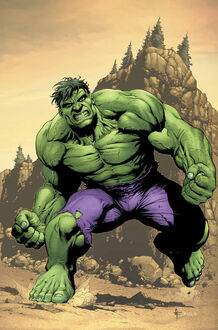 Hello. Me Hulk. Hulk come to puny Wiki to help out here. Don't ask Hulk why, because Hulk just felt like it. Hulk am super strong. Hulk can lift bus up and throw it, for example. Hulk has serious anger problem. Be nice to me, or HULK SMASH YOU! Hulk enjoy smashing things, and Hulk also like video games, and Hulk am pretty good at the Olympics(Hulk SMASHED competition). Oh, and Hulk also hate inactive Wikis. Hulk also like reading comic books and making them too. So, write on Hulk's talk page if puny human need anything.
Things Hulk like
Smashing things
Video games
Green Day
Did Hulk mention Hulk like Smashing things?
Things Hulk hate
Abomination(he think he stronger than Hulk)
Lady Gaga(Hulk think she overrated).
Inactive Wikis(they're SO boring)
Gallery dedicated to ME