Twelve Vol 1 12
Talk

0
116,135pages on
this wiki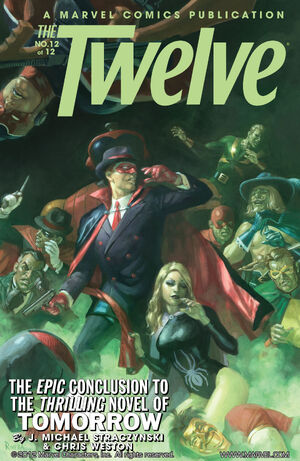 Textless
Previous Issue
Next Issue
—
I cannot tell you where I'm going, who I'm working with, or what I'm doing. The records are burned, my past with it. It's my future that needs to be written now. Because that's what humans do. We keep going. We don't think about climbing the mountain, we just keep putting one foot in front of the other until we run out of mountain. No matter what we've lost, no matter what we've done, or seen...we go on. Even when we are lost in the dark, we hold on to what matters, to what we love -- because it's only what we love that will one day bring us home. And every day, we try...we try very, very hard...not to weaken.
Appearing in the 1st StoryEdit
Featured Characters:
Supporting Characters:
Earl Everett's father (Only in flashback)
Villains:
unnamed double agent (Only in flashback)
unnamed hostage takers (Only in flashback); (Only appearance; dies)[1]
unnamed terrorists
Other Characters:
US Army personnel
unnamed D.A.
unnamed detective
Locations:
unidentified military base
London (Only in flashback)
EXC Enterprises headquarters
Items:
radioactive bullets (Only in flashback)
Vehicles:
Solicit Synopsis:Edit
• The Grand Finale Is Here!! • All Your Questions Are Answered And Nothing Can Prepare You For What's Next…!


Recommended ReadingEdit
Links and ReferencesEdit
↑

First and only known appearance to date besides flashbacks
---
| | | |
| --- | --- | --- |
| Like this? Let us know! | | |
---