Spider-Man Noir Vol 1 1
Talk

1
123,125pages on
this wiki
[[Category:Week Error: Invalid time., Error: Invalid time.]][[Category:]]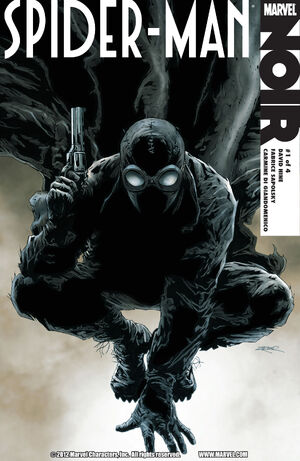 Textless

Variant
Previous Issue
Next Issue
—
Comic Book Showcase
---
Watch Episode 2 Now!
It wasn't dogs that tore Ben Parker to pieces. It wasn't dogs.

-- Ben Urich
This comic will be released on Error: Invalid time..

Solicit SynopsisEdit
With great power, there must also come great responsibility — and when those in power abuse it, it's the people's responsibility to remove them. The year is 1933, and New York City is not-so-secretly run by corrupt politicians, crooked cops, big businesses…and suave gangland bosses like New York's worst, the Goblin. But when a fateful spider-bite gives the young rabble-rouser Peter Parker the power to fight the mobster who killed his Uncle Ben, will even that be enough? It's a tangled web of Great Depression pulp, with familiar faces like you've never seen them before! By "Hardboiled" David Hine, Fabrice "The Spider" Sapolsky and Carmine "Carbine" Di Giandomenico!


In the Noir universe it is the year 1933.
The cover states one date, but the Indicia states another

Recommended ReadingEdit
Links and ReferencesEdit
---
| | | |
| --- | --- | --- |
| Like this? Let us know! | | |
---