Spider-Man's powers, abilities and equipment
Talk

0
107,889pages on
this wiki
Spider-Man's powers and equipment are used by Spider-Man in tandem to combat his many foes. He received most of his powers when he is bitten by a radioactive spider. He uses his technical skill to develop equipment and weapons to complement his powers, and wears a number of costumes, many of which have special properties.
Original abilities
These are Spider-Man's powers, acquired when he was originally bitten by a radioactive spider.
Generally enhanced physiology
Spider-Man heals faster than unaltered humans, It is safe to say that Spider-Man may have a healing factor, and not just fast healing. He can, and has, recovered from broken bones and much bodily damage in a matter of hours. During the recent unmasking of Spider-man in "Civil War," Spidey is ambushed by the Rhino, receiving heavy bodily damage, only to heal before the issue was over, without medical attention. He even mentions to Aunt May that 'he knows he has always been a fast healer, but lately it seems even more so.' Also when Spidey is heavily beaten and drugged, suffering multiple fractures and blood loss by the Jack O' Lantern and Jester in "Civil War," he is almost completely healed in the next issue.
His accelerated metabolism increases his tolerance to drugs (meaning a larger dose is needed to cause the usual effect), and he can recover from the effects rapidly. During an encounter with the bee-based villain Swarm, Spider-Man was incapacitated by thousands of bee stings, but he fully recovered in less than 24 hours. His resistance to other toxins varies, but is typically significantly higher than normal. However, Spider-Man has normal human tolerance to the effects of alcoholic beverages and is rarely shown drinking, since it affects his balance, reflexes and coordination. In one battle with the Hobgoblin, he nearly loses his life after unknowingly consuming spiked punch at a party.
Several accounts depict Spider-Man as able to hold his breath for eight minutes or more.
After getting his powers, he soon discovered that he no longer needed glasses, although they were a weak prescription to start with. His eyesight has since been at least better than average.
Spider-Man is still vulnerable to disease, and has fallen ill due to flu many times, which affects the reliability of his powers. He has also has a certain susceptibility towards ethyl chloride, which is a commonly used pesticide against insects and arachnids. This chemical was used frequently as a weapon in the Spider-Slayer robots.
Wall-crawling
Spider-Man is capable of crawling on walls and ceilings. He has conscious control over this ability, and it is simple and instinctive for him to use. Originally, Spider-Man was able to stick to surfaces using his hands and feet[1], but later he is shown to be able to cling with his back. The strength of attraction between himself and the surface he is clinging to is considerable. If Spider-Man does not willingly detach, but is pulled off by force, the surface usually breaks still attached to his body. He has the strength of be several tons per fingertip. However, if a surface is too slippery, he has problems sticking to it. He can also use his clinging ability to lift or hold objects.
The ability works through thin layers of cloth, such as the fabric of his costume, but not through materials such as the soles of shoes. When Peter Parker needs to crawl without changing into the costume, he removes his shoes first.
Spider-Man's wall-crawling ability has increased with time, most notably after 2005's "Spider-Man: The Other" story arc. As a result of further mutation, nearly every part of his body has gained or increased in attraction to other surfaces, and he can stick to people or objects on his back, or keep his mask firmly fixed to his face.
Spider-Man's wall crawling abilities have been explained in several ways. The most notable explanations include:
minuscule damp barbed hairs on fingertips (as in the film) — this is how most real spiders climb. [1]
suction from his pores
glue-like adhesion to surfaces on the subatomic level
self-telekinesis
localized gravitational attraction (although gravity is by far the weakest of the four fundamental forces)
bio-electricity. Reed Richards called his alternate future daughter Spider-Girl's similar power "bio-magnetism," but her ability is somewhat different.
electrostatic control of molecular boundary layers. As of late, Spider-Man's wall crawling ability has been most commonly explained as the ability to mentally control the flux of inter-atomic attraction (electrostatic force) between molecular boundary layers. This overcomes the outer electron shell's normal behavior of mutual repulsion with other outer electron shells and permits the tremendous potential for electron attraction to prevail. The mentally controlled sub-atomic particle responsible for this has yet to be identified.
Enemies able to cancel ability
Electro can disrupt this power somehow(perhaps interfering on an electrostatic inter-atomic level) as shown in Spectacular Spider-man 134-136. It is unknown whether he still can after "The Other".
Many enemies have used lubricants to prevent Spider-Man from sticking.
Enhanced strength and durability
Spider-Man's strength varies widely due to artistic license. After gaining his powers, he could lift 10-30 tons. His strength increased to 75 tons[2]. Due to further mutation[3], his strength may have increased even further. His strength may be closer to the 100-150 ton range now, though we are unaware of the extent to which it increased.
When in combat, Spider-Man must pull his punches unless fighting someone of similar durability and power. Otherwise, his strength would kill a normal person[4].
Spider-Man can leap several stories vertically or the width of a city street[5]. He can run at superhuman speed for short sprints, fast enough at least to outrun a car, but prefers using his weblines to travel[6].
Spider-reflexes and agility
Spider-Man's reflexes are roughly fifteen times faster than a normal person's, according to the Official Handbook of the Marvel Universe: Spider-Man 2004. In combination with his spider-sense, the speed of his reflexes allows him to dodge almost any attack, or even gunfire. Due to the events of "The Other," the speed of his reflexes increased and they begin responding directly to his spider-sense and instinct, making him even faster, but also making him lash out at negligible threats.[7]
Spider-Man has the ability to maintain his equilibrium on any surface that he can stick to. For example, he can balance on one finger on a high wire[8], or stand upright on a wall, parallel to the ground. Additionally, he is able to flex his body like a contortionist, assuming postures that would be impossible or harmful for most normal humans.
Spider-sense
Spider-Man's "spider-sense" manifests in a tingling feeling at the base of his skull, alerting him to personal danger in proportion to the severity of that danger. Though the exact mechanism of this ability is unknown, his original spider-sense clearly has at least two aspects in addition to sensing potential or immediate danger:
A psychic awareness of his surroundings, similar to the radar-sense of Daredevil. When he is temporarily blinded[9], Spider-Man learns to emulate this ability and navigate without his eyesight. Even under normal conditions, his spider-sense helps him navigate darkened rooms, instinctively avoiding obstacles or hazards, or potentially noisy or unstable floorboards, walls or ceilings that may betray his presence.
An ability to detect certain radio frequencies. Spider-Man's technical skill is such that he has designed Spider-tracers that broadcast a signal detectable by his spider-sense.
Using his spider-sense to time his enhanced reflexes, Spider-Man can casually dodge attacks up to and including automatic-weapons fire. His spider-sense is sufficiently well-linked to his reflexes, even before "The Other" storyline, that a threat can trigger them even when Spider-Man is asleep or stunned,[10] where a narcotic gas released by foe Mysterio caused him to lose his balance and fall from a building. Though barely conscious, a combination of spider-sense and reflex caused his arm to seize a fire-escape ladder, saving his life.
When Spider-Man swings across a city on his weblines, his spider-sense guides his aim, allowing him to travel at high speeds hundreds of feet above street level with minimal concentration, confident his weblines will find secure anchor points.
Spider-Man's spider-sense is directional and can guide him to or away from hidden weapons and enemies. Sudden and extreme threats (such as the Beyonder observing Earth before the first Secret Wars, or the predatory Morlun) can cause his spider-sense to react with painful intensity.
Spider-Man can also sense and dodge attacks directed randomly or by a computer. His spider-sense has helped him preserve his secret identity since it alerts him to observers or camera when changing into or out of his costume.Aunt May.
The spider-sense does react to those who Peter does not consider to be a threat, such as
Spider-Man can choose to ignore his spider-sense, and distraction or fatigue diminish its effectiveness.
Spider-Man gains the ability to feel vibrations and currents in the air or in his web lines, much like a real spider. He also develops a psychic connection to insects, spiders, and other arthropods.[11]
Enemies immune to the spider-sense
When deprived of his spider-sense, Spider-Man becomes vulnerable to surveillance and attack and traveling by web-line requires most of his concentration.
Further mutations
On several occasions, Spider-Man takes on more spider-like forms—at the extreme even transforming into a gigantic spider.
In The Amazing Spider-Man #100-103, he uses an untested formula to try and rid himself of his spider-powers. It backfires: he grows four extra arms instead, which extend from his sides. With help from Dr. Curt Connors, and a blood sample from Morbius, he is able to return to normal.
He is transformed by the Savage Land Mutates into a monstrous, predatory form that comes to be called "Man-Spider." In this form, his normal human consciousness is submerged, and he attacks like an animal. However, his conscience is able, barely, to stop him from killing. He is transformed into Man-Spider several other times.[12]
Spider-Man encounters an enemy called the Queen, a woman capable of controlling insects. She triggers another transformation in him: first, he grows extra eyes and hair covering his body; second, he changes into a Man-Spider-like form (however, with his human mind still intact); and finally he transforms into a giant spider. In that form, he seems to die, but instead emerges in human form, but with enhanced powers.[13]
Powers after "Disassembled" and "The Other"
In addition to his original powers, Spider-Man gains the following abilities after he fights the Queen[14], and also after apparently dying at the hands of the vampire Morlun and being reborn[15].
Arthropod communication
After Disassembled, Spider-Man can mentally communicate with arthropods (at least insects and spiders), though he does not seem to be capable of controlling them like Ant-Man. He can sense their presence, or glance at any spider and instantly know what kind it is (Friendly Neighborhood Spider-Man #4). It is possible that this is an extension of his spider-sense. Spider-Man used this mental capacity to communicate with all of the Queen's followers, humans with an "insect gene," and learned how to deactivate a bomb[16]
Organic webbing
In "Disassembled," Spider-Man develops the ability to shoot organic webbing from his wrists, making his web-shooters unnecessary.
Night vision
After "The Other," Spider-Man develops night vision, allowing him to see in the dark.[17]
Eyes, teeth and stingers
Overcome by rage in "The Other," Spider-Man's spider side overrules his human qualities. His eyes turn glowing red, and he develops fanged teeth and sharp stingers[18]. The stingers are within his arms, protruding from his wrists (he quips that the stingers are a form of "Logan envy"). They are coated in a venom that inflicts temporary paralysis. Spider-Man cannot consciously control these stingers yet, so they are only triggered in overwhelming situations[19].
Spider mutation and cocoon
During "Disassembled," Spider-Man mutates into a giant spider, and then emerges from the spider's body with a new ability to communicate with arthropods and organic webbing.
In "The Other," Spider-Man seemingly dies, and molts his dead body. He creates a cocoon, and emerges with all his bodily damage healed: lost teeth, broken bones, his lost eye (which Morlun had torn out), scars, and even lost tonsils. In the words of Tony Stark, Peter's "odometer's been reset." Since some species of spiders shed their skin once in a lifetime, this may be a one-time occurrence.[20]
Equipment
Although he is usually of limited financial means, Spider-Man develops personal equipment that plays an important role in his superhero career.
Web-shooters
Spider-Man's web-shooters are perhaps his most distinguishing trait, after his costume. The wrist-mounted devices fire an adhesive "webbing" (see below) through a threaded adjustable nozzle. The trigger rests high in the palm and requires a double tap from the middle two fingers to activate, giving Spider-Man a distinctive hand position when he fires them (resembling the sign for "I love you" in American Sign Language or the horned hand heavy-metal gesture) and eliminating the chance of accidental discharge.[21]
Spider-Man must steadily replenish his webbing supply, reloading his web-shooters with small cartridges of web fluid. In early stories, he carries his extra supplies in a utility belt worn under his costume. Later on, he equips the web-shooters with a bracelet-like carousel that automatically rotates a new cartridge into position as he empties them. His web-shooters require constant maintenance and on more than one occasion suffer jams or malfunctions
.
Occasionally, the web-shooters are modified to expel other liquids. After he develops organic webbing, Spider-Man gives the web-shooters to his wife Mary Jane as a Valentine's Day present, after having them changed into bracelets, to use for self-defence.[22]
Ben Reilly, as the Scarlet Spider and later as Spider-Man, uses modified web-shooters that can fire fast-acting sedative "stinger" darts, and "impact webbing," balls of webbing that explode on impact and envelope the target. The impact webbing and stingers are activated by certain wrist movements, rather than using a double-tap on a palm trigger. They are larger than Peter's web-shooters and worn on the outside of his costume.
Webbing
Shortly after getting his powers, Peter Parker (established early on as being extremely intelligent and creative) develops a special synthetic adhesive that has spider web-like properties, as well as wrist-worn launching devices (see Web-shooters). Upon release and exposure to oxygen, the webbing dries immediately into a strong material. One account described a single strand as stronger than piano wire and according to the Official Handbook of the Marvel Universe, the webbing has a tensile strength of 120 lbs per square millimeter in cross-section. It's exact composition is unknown but it has been compared to nylon with extreme adhesive properties. Spider-Man can do many things with his webs:
Firing a thin strand at a nearby tall building, then swinging on this "webline". Doing this in rapid series allows Spider-Man to quickly travel through well-developed urban areas. His travel speed has not been officially stated, though the Sins Past storyline depicts his crossing the city of Manhattan in under 11 minutes. An estimated maximum of 40, and perhaps as much as 75-100 miles per hour given optimal terrain, is consistent with most accounts.
Firing a thicker "rope" of webbing, Spider-Man can bind captured criminals (even those with superhuman strength) to be later picked up by police officers.
Covering a small area with an extremely sticky blob. Spider-Man can cover an opponent's eyes, blindfolding them Comprende?"
, or smother a handgun or a small bomb. On one occasion, he told a criminal whose weapon and hand had been so covered: "I should warn you about the tensile strength of my webbing, but considering your likely IQ, let's just say that if you fire that gun again, the backfire will take your hand off.
Casting a large web across a street or alley to snare rapidly-moving persons or vehicles.
Improvising small structures, such as parachutes, statues or dummies, baseball bats, full-size operational gliders, trampolines, gloves (for fighting the likes of Electro), nets, air-proof domes (for underwater breathing), bandages, slings, bulletproof shields, plugs, patches, and even hammocks.
In his early adventures, Spider-Man sometimes fired the fluid as a straight liquid to use its maximum adhesive strength.
The synthetic webbing dissolves into a harmless gas after about one hour. Human Torch or out-of-control fires) and even acid webbing that can eat through the Rhino's tough hide.
Spider-Man can modify his webbing when anticipating combat with a specific threat. These modifications include non-conductive webbing (typically for battling Electro), flame-retardant webbing (against the
Parker undergoes a transformation that results in the ability to produce organic web fluid from his wrists. The effectiveness of the new webbing is dependent upon his health and nutrition. The specific properties of this new organic webbing are unknown, but it can be safely assumed to be comparable to his artificially-created web mixture. After gaining this ability, he begins using the bio-webbing instead of his traditional mechanical web-shooters.[23]
Spider-tracers
Spider-Man uses small electronic "spider-tracers" of his own design that allow him to track objects or individuals. Typically, Spider-Man plants one on a departing enemy, or throws one to adhere to an escaping enemy, then follows the target to their hideout for later attack. Spider-Man sometimes also uses a launching device in his web-shooters for better range and accuracy.
A tracer's outer casing is shaped like a spider, with legs for aerodynamic flight. The tracers are small enough to remain unnoticed, in general, but sometimes a target finds a tracer and destroys it.
In early stories, Spider-Man uses a small electronic receiver to follow the signals of his tracers, but eventually he modifies the tracers to emit a signal he can follow with his spider-sense. The receiver, however, offers better range. Spider-Man was unable to sense a tracer that had been taken out of Manhattan. The receiver, however, allows him to follow it to the town of Scarsdale, New York, some 20 miles away.[24]
In several stories, enemies use the tracers to lure him into a trap [25].
. Enemies with sufficient technical knowledge can reprogram the tracers into overloading his spider-sense
His clone Ben Reilly can also pick up the signal from Peter's tracers. Ben also developed a modified version of the original tracer into a simpler 'Micro-Dot' form. Like Peter's, these devices can be fired from Ben's web-shooters and can adhere to most surfaces. They fly like miniature Frisbees. Following her rescue from an obsessed kidnapper, Mary Jane wears an amplified version of a spider-tracer in a necklace pendant. It carries a boosted signal so Spider-Man can follow it over a longer distance.
Utility belt and spider-signal
Spider-Man keeps his regular field equipment in a utility belt that can carry extra web fluid cartridges, spider-tracers, and his camera. The belt's buckle contains a small but powerful light, which is filtered through a lens decorated with a stylized likeness of Spider-Man's mask. This spider-signal is mostly limited to intimidating weak-nerved criminals and acting as a wide-beam flashlight. It is sometimes used to call for help, as well.
Camera
Peter Parker gains employment as a freelance (and sometimes staff) photographer through most of his teen and young adult years. He sells pictures of himself in action as Spider-Man, takes any assignments offered, or, sometimes, uses his powers to help him photograph special events where normal press access is limited or denied, for the New York newspaper The Daily Bugle.
His first camera, originally his father's, has an extended rear metal plate that allows him to use his web to secure it to a wall or other fixed object without interfering with its functions. Typically, Spider-Man positions the camera before intervening in a crime or emergency. Spider-Man gradually improves on the camera's simple timer, including adding a motion sensor that triggered the camera whenever he, as Spider-Man, moved in front of it. He has updated and replaced the camera (they are occasionally destroyed during battles) as necessary over the years.
Partly due to the stinginess of Bugle editor/publisher J. Jonah Jameson, Parker never earns much money as a freelancer. The Bugle, legal owner of his submitted work, eventually publishes a book of his photographic Files (Webs) which helps improve his finances. He wins a Pulitzer Prize for his picture of the Sentry, but the Sentry's earlier adventures and their consequences are later wiped from human memory, probably including this award. Parker does, however, win other photography awards over the years.
Peter Parker publicly reveals his secret identity during the Civil War crossover. The Bugle staff (particularly Jameson), are shocked to learn that Parker had been selling them photographs of himself for years and is taking legal action for the fraud.
Spider-Mobile
In Amazing Spider-Man #126 (November 1973), Corona Motors approaches Spider-Man through the advertising agency Carter & Lombardo, offering him use of a new nonpolluting motor they had invented and wished to promote, to be installed in a "Spider-Mobile" of his design. Initially reluctant but tempted by the promised endorsement fees, Spider-Man enlists the aid of Johnny Storm, aka the Human Torch, in creating the vehicle; a heavily customized dune buggy with web-launchers and a spider-signal. It debuted in Amazing Spider-Man #130. It proves useful for a time but is quickly wrecked (Spider-Man having not yet learned to drive, not uncommon among residents of New York City). The Tinkerer (with support from the Kingpin), salvages and modifies it further to allow it to drive itself and drive up walls, and he uses it against Spider-Man, who barely manages to disable it. Spider-Man returns the heavily-damaged vehicle to Carter & Lombardo, suspending it with webbing outside the window of their 14th-story offices[26]. Spider-Man, who had never been enthused by the project, looks back on the entire affair with some regret, repeatedly calling the Spider-Mobile "hokey".
Costumes
Original costume
Although the details change somewhat over the years, Spider-Man's costume, with a few notable exceptions, remains fairly consistent. The standard is a form-fitting bodysuit, which from the waist down is blue, except for mid-calf boots with a black web pattern on a red background. From the waist up, the fabric is a red-and-black web pattern, except for his back, sides, and insides of his upper arms, which are blue. There is a large red spider outline on his back, and a smaller black spider emblem on his chest. The mask has large white eyes rimmed with black that allow him to see but hide his eyes. This makes the costume unique among superhero costumes in that it completely conceals the wearer, revealing no clues as to identity, even skin or eye color; a physical allusion to the psychological questions of identity and alienation which made the comic unique when it was created.
This standard costume varies in the details depending on the artist: he is sometimes depicted with "underarm webbing" connecting his arms to his torso; the eyes of his mask vary from barely larger than human eyes to extremely large; the blue portions of his costume vary from light blue to black (the usual standard is dark blue); and the density of the web design varies.
Black costume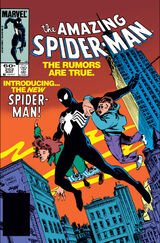 One of the most significant alterations to Spider-Man's costume takes place during the Secret Wars crossover event, in which Spider-Man begins to wear a black costume. The costume first appears in Amazing Spider-Man #252 (May 1984), several months before its origin is revealed in Secret Wars #8. This costume has large white spider emblems on the chest and back and white web-shooters on the backs of the hands. Upon discovering that the costume is actually an alien symbiote, Spider-Man rejects the creature, and he wears a non-living version of the costume for a while. He stops wearing this costume, however, when Mary Jane is viciously attacked by Venom, the symbiote's new incarnation. Since then, Peter only uses the black costume on occasions when stealth is required.
Extemporaneous substitutes
When Spider-Man first rids himself of the symbiote, he finds himself without clothing across town from his home. The Human Torch gives him an old Fantastic Four uniform, a paper bag to conceal his identity... and a "kick me" sign on his back[27]. Years later he again uses a paper bag as an impromptu disguise, calling himself the "Bombastic Bag Man."
If he has no costume and Spider-Man is needed, he will use webbing, street clothes, or whatever else is available to hide his identity.
Captain Universe and Daredevil
Captain Universe possesses Spider-Man for a time,[28] giving him cosmic-level abilities and awareness. As a result, all of this natural spider-powers were enhanced to a mind-boggling degree. For example, Spider-Man's strength was amplified by 50 times, making him stronger than the Hulk! However he did not become aware of the actual 'possession' until much later on because of the powers being partially suppressed by a machine devised by one of Parker's teachers at Empire State University. In the aftermath of the Acts of Vengeance, the suppression is removed in time to battle and defeat the Tri-Sentinel. He wore his original costume underneath the Captain Universe costume, with the webbed jawline of Spider-Man's mask visible through the captain universe mask.
Spider-Man once wore Daredevil's costume in order to convince people that Daredevil and Matt Murdock were in fact two different people.
Ben Reilly's costumes
When Ben Reilly first returns to New York City, he wears an improvised costume consisting of a red bodysuit and mask, a sleeveless hooded sweatshirt, and belts for carrying supplies. Daily Bugle reporter Ken Ellis dubs him the "Scarlet Spider." When he replaces Peter Parker as Spider-Man, he alters the traditional Spider-Man costume so that the chest spider pattern covers the entire upper torso. Instead of a large red spider on his back, the web pattern and spider emblem repeat there. The gloves have enhanced web-shooters on the outside, and the web design on the boots and gloves is partially replaced with dark blue[29]
Protective wear
On a few occasions, Spider-Man has altered his costume for specific purposes. He uses a very short-lived, silver-colored armored suit[30] made out of webbing material.
He creates an electrically insulated costume to fight Electro.[31]
Identity Crisis
Parker created four distinct costumes during the "Identity Crisis" storyline, for the identities Dusk, Ricochet, Hornet, and Prodigy. Four other people later used these costumes and identities in the Slingers comic book series.
Tony Stark's "Iron Spider" costume
After Spider-Man's newer powers developed in "The Other", Tony Stark (Iron Man) developed a new suit for Peter[32]. Nicknamed the "Iron Spider" costume, it is red and gold.
Supported by a system similar to that of Stark's classic Iron Man design, it features many gadgets, including three mechanical spider-arms, or "waldoes," that can be used to see around corners (via cameras in the tips) and to manipulate objects indirectly. Stark describes them as too delicate to use in combat, yet Spider-Man shortly afterward uses them to smash through the sensors in Titanium Man's helmet. Later on during the Civil War storyline, he uses them, (to his distaste), during his fight with Captain America.
Other features include short-distance gliding capability, limited bulletproofing, built-in fire/police/emergency scanner, audio/visual amplification (including infrared and ultraviolet),cloaking device, carbon filters to keep out airborne toxins, and a short-range GPS microwave communication system. It grants the ability to breathe under water, and can morph into different shapes due to its "'smart' liquid metal" form. It can also "more or less disappear" when not needed. The new costume is able to look like other styles of costumes Spider-Man has worn over the years or turn into his street clothes. Part of the costume can detach it self from Spider-Man to cover an object too dangerous to touch, such as a radioactive asteroid. All these features are controlled by a computer system in the chest piece. The suit responds to mental control[33].
External links
References